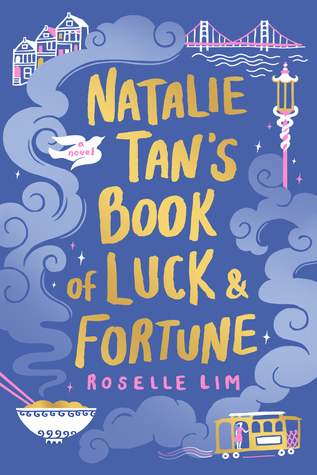 Title: Natalie Tan's Book of Luck and Fortune
Author: Roselle Lim
Genre: Contemporary
Published By: Berkley (June 11, 2019)
Source: ARC provided by the publisher in exchange for an honest review
Book Description:
Lush and visual, chock-full of delicious recipes, Roselle Lim's magical debut novel is about food, heritage, and finding family in the most unexpected places.
At the news of her mother's death, Natalie Tan returns home. The two women hadn't spoken since Natalie left in anger seven years ago, when her mother refused to support her chosen career as a chef. Natalie is shocked to discover the vibrant neighborhood of San Francisco's Chinatown that she remembers from her childhood is fading, with businesses failing and families moving out. She's even more surprised to learn she has inherited her grandmother's restaurant.
The neighborhood seer reads the restaurant's fortune in the leaves: Natalie must cook three recipes from her grandmother's cookbook to aid her struggling neighbors before the restaurant will succeed. Unfortunately, Natalie has no desire to help them try to turn things around--she resents the local shopkeepers for leaving her alone to take care of her agoraphobic mother when she was growing up. But with the support of a surprising new friend and a budding romance, Natalie starts to realize that maybe her neighbors really have been there for her all along.
About the Author:
Roselle Lim was born in the Philippines and immigrated to Canada as a child. She lived in north Scarborough in a diverse, Asian neighbourhood.
She found her love of writing by listening to her lola (paternal grandmother's) stories about Filipino folktales. Growing up in a household where Chinese superstition mingled with Filipino Catholicism, she devoured books about mythology, which shaped the fantasies in her novels.
An artist by nature, she considers writing as "painting with words."
Lim's debut novel is indeed every bit as magical, emotional, and heart warming as it claims to be.
Full of grieving, moving on, finding oneself, and a community coming together to help their own, it truly is one you don't want to miss out on and will leave a lasting impression.
Realistically told with issues that anyone can relate to, it truly was beautifully told as it slowly unfolded and family issues and secrets were revealed and one woman learned to move on, become someone she was always meant to be and to learn how to grow and most of all, forgive.