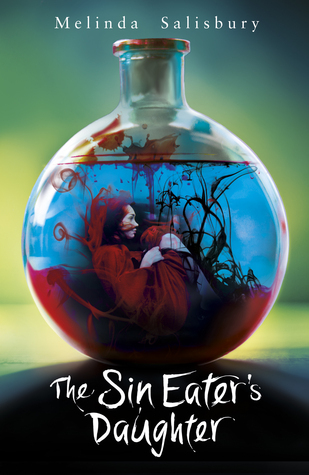 Title: The Sin Eater's Daughter
Author: Malinda Salisbury
Series: Book One in the Sin Eater's Daughter Series
Published By: Scholastic (February 24, 2015)
Source: ARC Copy Provided by the Publisher
(in exchange for an honest review)
Genre: YA Fantasy
My Rating: 4 Stars!
Book Description:
Seventeen-year-old Twylla lives in the castle. But although she's engaged to the prince, Twylla isn't exactly a member of the court.
She's the executioner.
As the Goddess embodied, Twylla instantly kills anyone she touches. Each month she's taken to the prison and forced to lay her hands on those accused of treason. No one will ever love a girl with murder in her veins. Even the prince, whose royal blood supposedly makes him immune to Twylla's fatal touch, avoids her company.
But then a new guard arrives, a boy whose easy smile belies his deadly swordsmanship. And unlike the others, he's able to look past Twylla's executioner robes and see the girl, not the Goddess. Yet Twylla's been promised to the prince, and knows what happens to people who cross the queen.
However, a treasonous secret is the least of Twylla's problems. The queen has a plan to destroy her enemies, a plan that requires a stomach-churning, unthinkable sacrifice. Will Twylla do what it takes to protect her kingdom? Or will she abandon her duty in favor of a doomed love?
I have to start by saying that before I picked this up, there was a lot of hype about it going around. Mostly good and for whatever reason, that usually scares me more than the bad. After all, it is hard not to be excited about a book that so many are loving and then fearing that you will be the one that doesn't. That it will dash your hopes and leave you sad because of it.
I would be lying if I said this didn't do a little bit of both, both live up to my expectations, and not quite live up to them at the same time.
I loved the world building, it was fantastic. Everything laid out nicely without dumping info on the reader but instead transporting them into Twylla's world, right into Lormere. You could see it, smell it and imagine living in it. I didn't once feel lost of have questions about how things came to be, it was beautifully done.
The characters were fantastic, every single stinking one of them in different ways. The villains were villainous and evil (and some times down right horrifying) so much so that you couldn't not hate them. You couldn't not want to reach through the pages and get rid of them for those that were fighting for good. Fighting for the good guys.
The good guys were really good, and the really good guys, swoon worthy. And those that you weren't sure about and those that you thought you were sure about, by the end, left me scratching my head wandering what the heck just happened as my opinions about them were changed and I wasn't sure up from down anymore.
It was a page turner. Hard to put down. Imaginative. Action packed. Swoon worthy. Everything I love in a good solid read.
But, of course there were the things I didn't love. The love triangle (don't worry this is only a sort of triangle) and the cliffhanger ending. The last few chapters of this book were intense. I was on edge never knowing what was going to happen. Anything, truly, was becoming possible and I wasn't quite sure how I felt about it. My heart was pounding and I wanted to scream and shout and demand justice.
But all good things right?
Were the triangle and the cliffy enough to make me hate this read or rate it lower? Heck no. I still loved every single minute of it and was pretty upset that I didn't already have book two in my hands. I was not ready for this to be over. The ending of this book, was what truly made it. Those last few chapters made this a totally stand out read for me.
I needed more, I still need more and I am not happy about that, but that unhappiness is in the best way possible because it leaves me super anxious for the next book and me here, even now hours alter as I am writing this review, still thinking about it, still trying to imagine what will happen. Still trying to think up what the author could possibly throw at us next.
*All thoughts and opinions are my own and were not influenced by the author or publisher. I was not compensated for this review.*