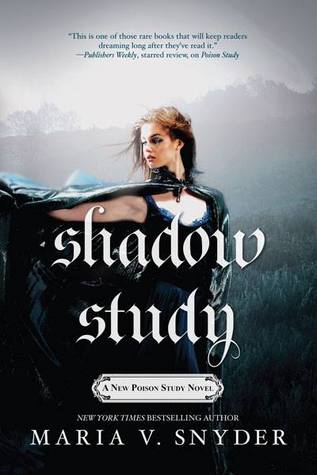 Title: Shadow Study
Author: Maria V. Snyder
Series: Book One in the Soul Finders Series (Poison Study #4)
Published By: Mira (February 24, 2015)
Source: ARC Copy Provided by the Publisher
(in exchange for an honest review)
Genre: Fantasy
My Rating: 4 Stars!
Book Description:
New York Times bestselling author Maria V. Snyder wowed readers with Poison Study, the unforgettable story of poison taster Yelena. Now she's back with a new tale of intrigue.
Once, only her own life hung in the balance.
Oddly enough, when Yelena was a poison taster, her life was simpler. But she'd survived to become a vital part of the balance of power between rival countries Ixia and Sitia. Now she uses her magic to keep the peace in both lands and protect her relationship with Valek.
Suddenly, though, they are beset on all sides by those vying for power through politics and intrigue. Valek's job - and his life - are in danger. As Yelena tries to uncover the scope of these plots, she faces a new challenge: her magic is blocked. She must keep that a secret - or her enemies will discover just how vulnerable she really is - while searching for who or what is responsible for neutralizing her powers.
Yes, the days of tasting poisons were much simpler. And certainly not as dangerous,
It has been a long time since I visited the world that Yelena and Valek live and I was super excited to jump right back into it. I remember the Study series being one of my first jumps into UF and loving it.
There is just something about a well written book with lovable characters. One that is action packed and has just the right amount of romance and magic that doesn't over power the story.
Even though it has been years since the last book was read, I was hopefully that I would be able to jump right in and fall in love with Valek and Yelena (and Leif,Ari and Janco!) all over again.
My only concern was being able to start this having not read any of the spin off series that came after. And while I did feel a little lost in the beginning, it didn't take me long to feel right at home again in the mystical world that Synder has created.
It also didn't take me long to remember why I loved all the characters in the story. Ari, Leif, and Janco (love Janco and Ari's adventures and witty banter between each other) are some of my most favorite side kicks and it was nice seeing how far they have come since the early days of the Study Series. New characters as well were introduced and I have to admit, I liked them as well, what is not to like about another feisty assassin (Onora!)?
And of course how far Valek and Yelena have come as well. Their romance has always been a quiet one and it just works for them and it was nice seeing them really being together even if for most of the book they weren't actually together (it will make sense when you read it, I promise!).
I loved that we didn't just get Valek and Yelena's point of view this time, we also got Janco's and how I loved being inside his head!
I am so excited that this series has started up again and with that ending? I am seriously looking forward to continuing it and getting more!
*All thoughts and opinions are my own and were not influenced by the author or publisher. I was not compensated for this review.*