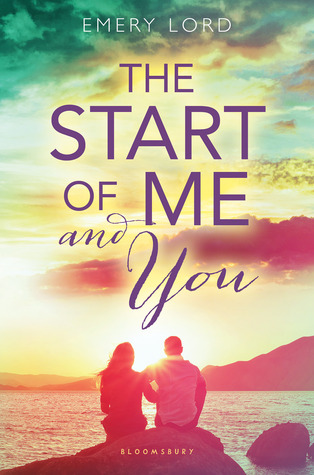 Title: The Start of Me and You
Author: Emery Lord
Series: Stand Alone
Published By: Bloomsbury (March 31, 2015)
Source: ARC Copy Provided by the Publisher
(in exchange for an honest review)
Genre: YA Contemporary
My Rating: 3.5 Stars
Book Description:
Following her pitch-perfect debut Open Road Summer, Emery Lord pens another gorgeous story of best friends, new love, & second chances.
Brimming with heartfelt relationships and authentic high-school dynamics The Start of Me and You proves that it's never too late for second chances.
It's been a year since it happened—when Paige Hancock's first boyfriend died in an accident. After shutting out the world for two years, Paige is finally ready for a second chance at high school . . . and she has a plan. First: Get her old crush, Ryan Chase, to date her—the perfect way to convince everyone she's back to normal. Next: Join a club—simple, it's high school after all. But when Ryan's sweet, nerdy cousin, Max, moves to town and recruits Paige for the Quiz Bowl team (of all things!) her perfect plan is thrown for a serious loop. Will Paige be able to face her fears and finally open herself up to the life she was meant to live?
It is funny how you can go into a story not expecting anything and end up loving a character so much that they just made the whole book for you.
This is what Max did to this story. He took an ordinary story and breathed life into it. This story wouldn't have been the same without him in it. In fact, I don't even know if I would have liked this story as much as I did if it wasn't for him. I did like the other characters, in fact I adored Ryan and Tessa, Grammy (especially Grammy!), and Paige but Max, he stole the show.
I never have been able to resist the cute, funny nerdy type and in books it is just the same and Max definitely fits this description but he was so much more than that. I don't even know how to describe him other than he was amazing. To Paige, to Ryan, to the girls, and to complete strangers.
Smart, honest, kind, and truly a heart of gold. He is the type of friend and boyfriend you hope your daughter will bring home and love and be worthy of.
This was an excellent coming of age story that wasn't just about growing up and moving on but about grief, friendship, and choices as well. The choice to move on. The choice to be better. The choice to truly live and the choice to love and be happy.
*All thoughts and opinions are my own and were not influenced by the author or publisher. I was not compensated for this review.*