Welcome to my stop for the A Madness So Discreet Tour!
I'm so excited to have Mindy here today on the blog with a wonderful guest post!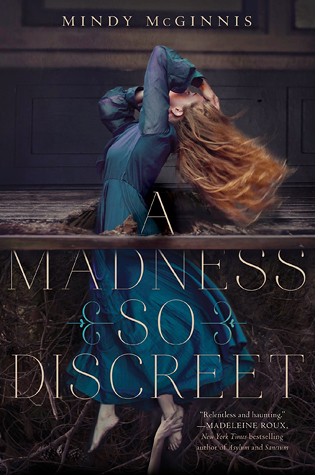 Title: A Madness So Discreet
Author: Mindy McGinnis
Series: Stand Alone
Published By: Katherine Tegen Books (October 6, 2015)
Source: ARC Copy Provided by the Publisher
(in exchange for an honest review)
Genre: YA Historical
Book Description:
She keeps it locked away, along with her voice, trapped deep inside a brilliant mind that cannot forget horrific family secrets. Those secrets, along with the bulge in her belly, land her in a Boston insane asylum.
When her voice returns in a burst of violence, Grace is banished to the dark cellars, where her mind is discovered by a visiting doctor who dabbles in the new study of criminal psychology. With her keen eyes and sharp memory, Grace will make the perfect assistant at crime scenes. Escaping from Boston to the safety of an ethical Ohio asylum, Grace finds friendship and hope, hints of a life she should have had. But gruesome nights bring Grace and the doctor into the circle of a killer who stalks young women. Grace, continuing to operate under the cloak of madness, must hunt a murderer while she confronts the demons in her own past.
In this beautifully twisted historical thriller, Mindy McGinnis, acclaimed author of Not a Drop to Drink and In a Handful of Dust, explores the fine line between sanity and insanity, good and evil—and the madness that exists in all of us.
About the Author:
Mindy McGinnis is a YA author who has worked in a high school library for thirteen years. Her debut, NOT A DROP TO DRINK, a post-apocalyptic survival story set in a world with very little freshwater, has been optioned for film my Stephanie Meyer's Fickle Fish Films. The companion novel, IN A HANDFUL OF DUST was released in 2014. Look for her Gothic historical thriller, A MADNESS SO DISCREET in October of 2015 from Katherine Tegen Books. Mindy is represented by Adriann Ranta of Wolf Literary.
I have to be honest and admit that I went into this with very high expectations. I am already a fan og McGinnis and know what a writing genius she is so I wasn't expecting anything else from her latest novel, A Madness So Discreet.
Thankfully, I wasn't disappointed in the least.
Taken though a horrifying world and truth of what it meant not only to be a woman in the early 19th century but at the mercy of men that could lock you up in an asylum for no reason other than you were too opinionated.
We get a glimpse of what times were like for women like Grace and how horrible and awful those times were not to mention the facilities that she was imprisoned in. With medical technology about mental health still in its infancy, times were rough, tough, and so not okay.
But as horrifying as some of the living conditions and institutes (as well as those that ran them) were, the best part about this novel, was the relationship between those patients that were locked up against their will, with no sign of mental heath at all. The bond that they formed was heartbreaking and heartwarming all at once and I adored Grace and the other girls in the Ohio Asylum. Their bond was unbreakable and I loved how they formed a family of their own.
Overall this was a fun read even though it was slow paced in parts and the ending was a bit rushed and took some turns I didn't see coming that I'm still not sure how to feel about. But, in the end, I thoroughly enjoyed this and am so glad that I read it.
*All thoughts and opinions are my own and were not influenced by the author or publisher. I was not compensated for this review.*
a Rafflecopter giveaway