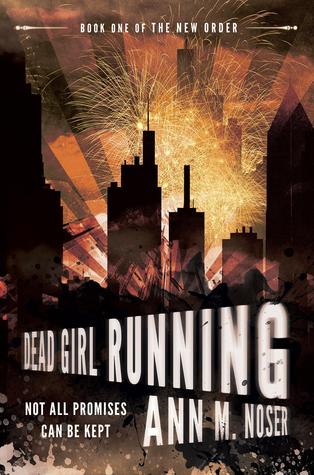 Title: Dead Girl Running
Author: Ann M. Noser
Series: Book One in The New Order Series
Published By: Curiosity Quills (October 26, 2015)
Source: ARC Copy Provided by the Author
(in exchange for an honest review)
Genre: NA Dystopian
My Rating: 4 Stars!
Book Description:
Eight years ago, SILVIA WOOD's father died in an industrial accident. After suffering through years of Psychotherapy Services and Mandated Medications for depression and multiple suicide attempts, she longs to work in Botanical Sciences. When the Occupation Exam determines she must work in Mortuary Sciences instead, she wonders if the New Order assigned her to the morgue to push her over the edge.
To appease her disappointed mother, Silvia enters the Race for Citizen Glory, in an attempt to stand out in the crowd of Equals. After she begins training with "golden boy" LIAM HARMAN, she discovers he also lost his father in the same accident that ruined her childhood. Then Silvia meets and falls for Liam's older cousin, whose paranoid intensity makes her question what really happened to her father. As the race nears, Silvia realizes that she's not only running for glory, she's running for her life.
Ann Noser wowed me with her debut novel and her very original take on the paranormal world. So when I heard that her new book was going to be a blend of some of my favorite genres, I knew I had to try it.
And I wasn't wrong in thinking that this would be another original take on something done before.
It was imaginative, fun, fast paced and full of surprises. It once again showed that Noser does know how to write and because of it, she can make her characters jump off the pages and come to life, which is exactly what she did in Dead Girl Running.
I loved all the conspiracies and the mystery behind The New Order and of course the death of her father and 52 others. There was so much that was hidden and as it all slowly unraveled, I found that I had a hard time putting this down.
I won't lie, the ending was a killer and now I'm dying to get my hands on book two.
*All thoughts and opinions are my own and were not influenced by the author or publisher. I was not compensated for this review.*