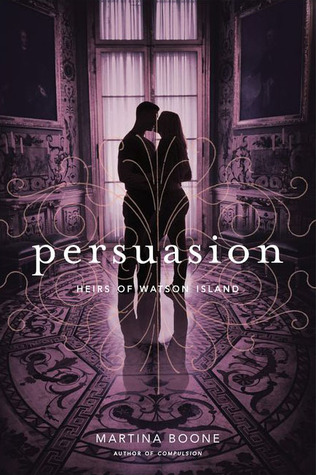 Title: Persuasion
Author: Martina Boone
Series: Book Two in the Watson Island Series
Published By: Simon Pulse (October 27, 2015)
Source: ARC Copy Provided by the Publisher
(in exchange for an honest review)
Genre: YA Fantasy
My Rating: 4 Stars!
Book Description:
Beautiful Creatures meets The Raven Boys in the spellbinding second novel in the Heirs of Watson Island trilogy that "skillfully blends rich magic and folklore with adventure, sweeping romance, and hidden treasure" (Publishers Weekly, on Compulsion).
Grieving the death of her godfather and haunted by her cousin Cassie's betrayal, Barrie returns from a trip to San Francisco to find the Watson plantation under siege. Ghost-hunters hope to glimpse the ancient spirit who sets the river on fire each night, and reporters chase rumors of a stolen shipment of Civil War gold that may be hidden at Colesworth Place. The chaos turns dangerous as Cassie hires a team of archeologists to excavate beneath the mansion ruins. Because more is buried there than treasure.
A stranger filled with magic arrives at Watson's Landing claiming that the key to the Watson and Beaufort gifts—and the Colesworth curse—also lies beneath the mansion. With a mix of threats and promises, the man convinces Barrie and Cassie to cast a spell there at midnight. But what he conjures may have deadly consequences.
While Barrie struggles to make sense of the escalating peril and her growing and forbidden feelings for Eight Beaufort, it's impossible to know whom to trust and what to fight for—Eight or herself. Millions of dollars and the fate of the founding families is at stake. Now Barrie must choose between what she feels deep in her heart and what will keep Watson's Landing safe in this stunning addition to a series filled with "decadent settings, mysterious magic, and family histories rife with debauchery" (Kirkus Reviews, on Compulsion).
It is funny how a story can grab you right from the beginning and you really can't say why. Not because the writing isn't good, because it was, nor because the characters weren't quirky and lovable, because again, they were. But just because for whatever reason, the story, while not completely original but totally unique in design, was just so much fun to read and had you eagerly turning the pages.
That is what book one, Compulsion, did for me. So it was without a second thought, that I picked up Persuasion, and dived right in. I was ready for more Berrie and Eight and all the crazy happenings that went along with them and Watson Island.
I was not disappointed. The danger is greater, the risks are higher, and the secrets are more hurtful, deadly, and in overabundance.
I absolutely loved how strong Berrie is getting. How determined to do what is right, regardless of the consequences and regardless of who she is helping. But most of all, I love Eight and Berrie together, but sadly, Berrie being Berrie, is also what tears them apart and it was sad to see so much arguing, anger, and hurt happening between these two but it was also completely understandable.
More than anything, the atmosphere of Watson Island, with it's magic and curses, hoodoo and voodoo, is what really makes this novel shine. I love the lore, the mystery and the dark mysterious and sometimes gothic setting of the island. It truly screams out to me and makes me crave more.
I loved where this whole series is going and I wasn't quite ready for it to end, no matter how painful that ending was. I want so much for the Watson's and the Beaufort's and I truly truly hope, they all get their happily every after.
Boone once again enchanted me with her writing, her ability to paint a beautiful dark scene and her talent for making it all stand out, stand up, and shine.
*All thoughts and opinions are my own and were not influenced by the author or publisher. I was not compensated for this review.*