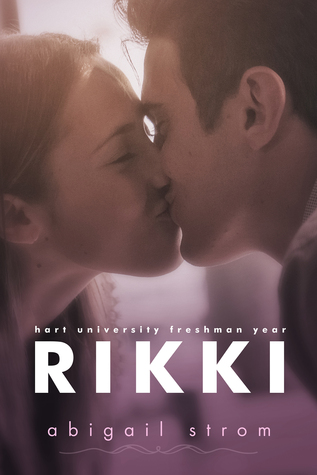 Title: Rikki
Author: Abigail Strom
Series: Book One in the Hart University Series
Published: September 22, 2015
Source: Copy Provided by the Author
(in exchange for an honest review)
Genre: New Adult Contemporary
My Rating: 4 Stars
Book Description:
Ever since junior high and an ill-fated game of seven minutes in heaven, Rikki Eisendrath and Sam Payne have hated each others' guts. But when they end up at the same college—and the same dorm—they figure it's time to declare a truce.
They even become friends… sort of. But when Sam asks Rikki to model for his sculpting project, they start spending more time together—and her feelings for him get more complicated.
She tries to focus on the guy she's been crushing on instead. But Sam's the one she can't stop thinking about, even though their arguments are starting to heat up as much as the chemistry between them.
With antagonism and attraction this intense, there's bound to be an explosion. But when the dust settles, will Sam and Rikki be enemies, friends… or something more?
It has been awhile since I have read anything in this genre because, if truth be told, I have been a bit burnt out on it. So it was with little expectation that I picked this up, even though I have loved Strom's work before. It wasn't anything against her, I just wasn't sure I was ready to dive back into the genre yet.
Boy was I wrong. This was such a fun read and it made me realize why I fell in love with this genre to begin with.
It had just the right amount of fun, steam, and romance as well and character growth.
All the fun romantic tropes I crave and love most, all packed into a little read that was so worth my time.
It left me with a smile on my face and just a complete feeling. Like seeing an old friend you haven't seen in forever and remembering why they were your friend to begin with.
Strom did a fun job delivering and making every aspect of this believable and entertaining and she reminded me why I trust her work to being with.
I can't wait for the next book!
*All thoughts and opinions are my own and were not influenced by the author or publisher. I was not compensated for this review.*