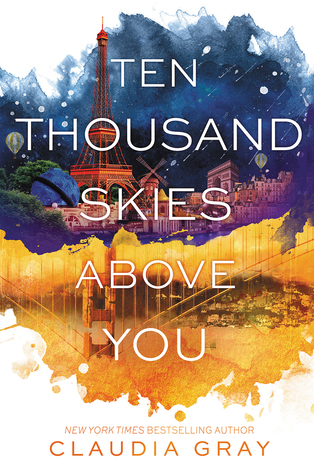 Title: Ten Thousand Skies Above You
Author: Claudia Gray
Series: Book Two in the Firebird Series
Published By: Harper Teen (November 3, 2015)
Source: ARC Copy Provided by the Publisher
(in exchange for an honest review)
Genre: YA Fantasy/Time Travel
My Rating: 4 Stars!
Book Description:
Ever since she used the Firebird, her parents' invention, to cross into alternate dimensions, Marguerite has caught the attention of enemies who will do anything to force her into helping them dominate the multiverse—even hurting the people she loves. She resists until her boyfriend, Paul, is attacked and his consciousness scattered across multiple dimensions.
Marguerite has no choice but to search for each splinter of Paul's soul. The hunt sends her racing through a war-torn San Francisco, the criminal underworld of New York City, and a glittering Paris where another Marguerite hides a shocking secret. Each world brings Marguerite one step closer to rescuing Paul. But with each trial she faces, she begins to question the destiny she thought they shared.
The second book in the Firebird trilogy, Ten Thousand Skies Above You features Claudia Gray's lush, romantic language and smart, exciting action, and will have readers clamoring for the next book.
Like a moth to the flame so goes me with books about time traveling, or in this case, dimension hoping. I am inexplicably drawn to them but unlike the moth, I seldom get burned from them.
And after loving A Thousand Pieces Of You I jumped right into Ten Thousand Skies without hesitation and once again was completely caught up in the world that Gray created.
With a slightly unique take on time travel, this once again, was a fun filled ride wrought with danger and surprises around every corner and new world.
I really enjoyed this second installment and with the cliffhanger ending, I'm eagerly awaiting book three.
*All thoughts and opinions are my own and were not influenced by the author or publisher. I was not compensated for this review.*