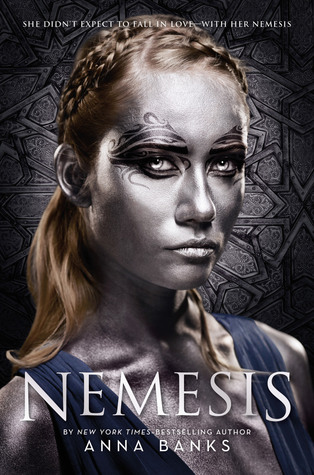 Title: Nemesis
Author: Anna Banks
Series: Book One in the Nemesis Series
Published By: Feiwel & Friends (October 4, 2016)
Source: ARC Copy Provided by the Publisher
(in exchange for an honest review)
Genre: YA Fantasy
My Rating: 4 Stars!
Book Description:
The princess didn't expect to fall in love--with her nemesis.
Princess Sepora of Serubel is the last Forger in all the five kingdoms. The spectorium she creates provides energy for all, but now her father has found a way to weaponize it, and his intentions to incite war force her to flee from his grasp. She escapes across enemy lines into the kingdom of Theoria, but her plans to hide are thwarted when she is captured and placed in the young king's servitude.
Tarik has just taken over rulership of Theoria, and must now face a new plague sweeping through his kingdom and killing his citizens. The last thing he needs is a troublesome servant vying for his attention. But mistress Sepora will not be ignored. When the two finally meet face-to-face, they form an unlikely bond that complicates life in ways neither of them could have imagined.
Sepora's gift could save Tarik's kingdom from the Quiet Plague. But should she trust her growing feelings for her nemesis, or should she hide her gifts at all costs?
I fell in love with Anna's debut fantasy series a few years ago and was so excited to see her coming out with a new series and after reading the enticing synopsis and seeing the gorgeous cover, it didn't take much convincing to immediately grab it and read it.
This was a good story. Engaging, entertaining, just the right amount of romance, action, mystery, and an interesting plot line. It wasn't anything unheard of or even unique but that was okay because what it lacked in complete originality it made up for with lovable characters and a fast paced plot that left me turning the pages.
I can already tell this will be a series to watch out for and I can't wait for book two.
*All thoughts and opinions are my own and were not influenced by the author or publisher. I was not compensated for this review.*