For those of you that may not know, I love this genre and to find not only a new author to love but a new series as well was a complete win win. I am so excited about this series and am happy that I can share it with you today for those that may not have heard about it yet.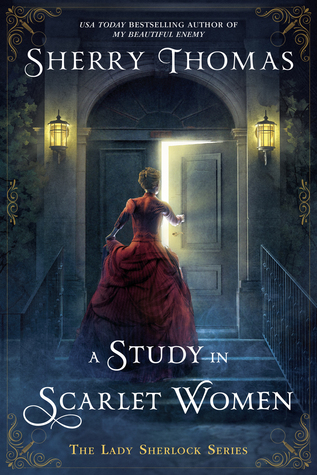 Book One in the Lady Sherlock Series
Published By: Berkley (October 18, 2016)
Book Description:
USA Today bestselling author Sherry Thomas turns the story of the renowned Sherlock Holmes upside down…
With her inquisitive mind, Charlotte Holmes has never felt comfortable with the demureness expected of the fairer sex in upper class society. But even she never thought that she would become a social pariah, an outcast fending for herself on the mean streets of London.
When the city is struck by a trio of unexpected deaths and suspicion falls on her sister and her father, Charlotte is desperate to find the true culprits and clear the family name. She'll have help from friends new and old—a kind-hearted widow, a police inspector, and a man who has long loved her. But in the end, it will be up to Charlotte, under the assumed name Sherlock Holmes, to challenge society's expectations and match wits against an unseen mastermind.
About the Author:
Sherry Thomas is one of the most acclaimed romance authors working today. Her books regularly receive starred reviews from trade publications and are frequently found on best-of-the-year lists. She is also a two-time winner of Romance Writers of America's prestigious RITA® Award.
English is Sherry's second language—she has come a long way from the days when she made her laborious way through Rosemary Roger's Sweet Savage Love with an English-Chinese dictionary. She enjoys digging down to the emotional core of stories. And when she is not writing, she thinks about the zen and zaniness of her profession, plays computer games with her sons, and reads as many fabulous books as she can find.
Being an avid Sherlock fan, I couldn't miss the opportunity to read something different, something with a nice witty twist and Thomas's latest read is exactly that.
I can't even begin to tell you how much I loved this story. It was brilliant. All the right characters, in all the right roles with all the wit, humor, mystery, and danger that any Sherlock fan would adore right down to the classic 19th century London setting. Except of course, for one small difference with a very big impact, Sherlock and Watson, not hes at all but instead, brilliant, charismatic, shes.
This was so beautifully done, so realistically done that it was easy to imagine that Sir Conan Doyle got it all wrong and that in fact, Sherlock was none other than our heroine Charlotte Holmes herself.
Wonderfully written with rich detail, a wonderful page turning mystery and just enough hint of a romance to leave you breathless and wanting the next book immediately. I'm so very excited for this new series and can already tell it will be a fast favorite.
*All thoughts and opinions are my own and were not influenced by the author or publisher. I was not compensated for this review. A copy was received in exchange for an honest review.*