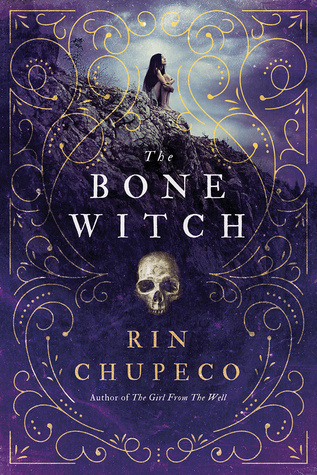 Title: The Bone Witch
Author: Rin Chupeco
Series: Book One in the Bone Witch Series
Published By: Sourcebooks Fire (March 7, 2016)
Source: ARC Copy Provided by the Publisher
(in exchange for an honest review)
Genre: YA Fantasy
My Rating: 3 Stars
Book Description:
When Tea accidentally resurrects her brother from the dead, she learns she is different from the other witches in her family. Her gift for necromancy means that she's a bone witch, a title that makes her feared and ostracized by her community. But Tea finds solace and guidance with an older, wiser bone witch, who takes Tea and her brother to another land for training.
In her new home, Tea puts all her energy into becoming an asha — one who can wield elemental magic. But dark forces are approaching quickly, and in the face of danger, Tea will have to overcome her obstacles…and make a powerful choice.
Memoirs of a Geisha meets The Name of the Wind in this brilliant new fantasy series by Rin Chupeco!
I went into this with high expectations after reading Chupeco's debut duology last year and maybe that is where I went a little wrong with this one. I expected it to grab me from the get go and not only keep my attention with a faster paced plot but be completely hard to put down with a fast moving plot as the synopsis hinted at. And sadly, that isn't quite what I got.
While I wouldn't say this wasn't a fascinating story or that it doesn't grab your attention (because it does do that), it still wasn't quite the fast paced read I was hoping it would be.
It was fun and original and I would even go so far as to say unique but for whatever reason I found myself struggling a bit with the pacing and the story itself. I think in this instance, it was a case of expecting way too much and being slightly let down because of it.
I think those that go into this expecting nothing and even for those that are being introduced to this author for the first time, will definitely enjoy this one and like it more. I think so much works for it despite the issues I had with it and I can only guess the next book will be even better.
*All thoughts and opinions are my own and were not influenced by the author or publisher. I was not compensated for this review.*