We all have those series that we absolutely love. Those that take us away and transport us into another world. Those series full of characters we wish we knew in real life because they are just so darn amazing. You know the series and characters I'm talking about.
But what happens when you come into those series a thousand books in? What happens when along the way you discover another series and that one demands your time and before you know it, you have a gajillion series and not enough hours in the day to finish them all?
If you know the amswer to that last question, please let me know what it is! :P
I saw another post recently about books in series that we have all started but that some of us haven't finished yet and ones that we really do want to finish but with all the other books out there, it can be daunting to try and actually do. Those series that are fabulous but for whatever reason get put on hold for another and so on and so on.
I thought it might be fun to make a list of those series and then I realized I didn't have all day to make said list so instead I'm making a list of those series that I've started, absolutely loved and want to finish before I die. A bucket list of book series that must be read so to speak.
And the top of my list The Hollows Series by Kim Harrison
I think I stopped this series at around book eight and with only 13 books in the series I'm not too far from reaching my goal but as much as I love these books, they are super long and for whatever reason, I can only take them in small doses, as in I usually can't read more than two in a row before I need a break.
The next series is also one I absolutely adore but with the books already well into the 40's, yes you read that right, book 45 is just around the corner and this series is still going strong. It feels like I will never catch up. As of this post, I'm only on book 14! *falls down with exhaustion just thinking about all the books I have to catch up*.
This series is so good though but with (usually) a darker theme, again I can only read them in small doses.
Next up the Kate Daniels series by Ilona Andrews, so okay, I only have a couple of books to catch up (thankfully) but for whatever reason, I keep pushing it back on my list of books to read and I don't even know why because again, I love this series and all the characters.
If you've ever tried Jennifer's writing then you already know why this series is a favorite but again, it's one that I can't seem to get caught up on.
The Stephanie Plum series is another series that is well into it's 20's with the number of books in it (and still going strong) but I find that with this series, I only read it when I need a really good laugh. It never fails to make me laugh out loud at all the hi-jinks Stephanie can get herself into but I've heard that the series starts to go downhill after a few more books so as much as I love it and want to finish it, I also don't want anything to ruin the series for me, hence, why I've put it on hold, silly isn't it?
The nest series is a series that I think is highly underrated, it too is just so much fun but for whatever reason I read and couple and then end up needing to put it down for an ARC and then promptly forget about it again, which is horrible because it really is a great escape series with lovable, adorable characters.
I have a hard time resisting books about witches, I can't even tell you why exactly but it was the main reason I picked up the first book in this series, Would Be Witch and fell in love with it. It's been so long now since I've read one, that I think I would have to go back and re-read them, which makes me sad because I really do remember liking it and would like to finish it some day.
Another underrated series that when I read the first book, years ago, I immediately liked and having it be about the fae, something I don't normally like, was unusual for me but there was just something about it. Thankfully (or not so thankfully for those waiting) the author went on hiatus for awhile so I only have about three books or so to catch up but if you like a good solid UF and the fae, this is the series for you to try.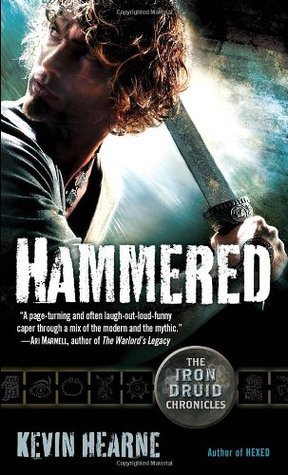 And last but not least, The Iron Druid series. I first tried this series last summer after having it recommended to me time and time again I finally caved and you know what, it really was something different. Told in the male POV, it was a nice change in the UF world. Plus, it is riddled with humor and hey, a talking dog, how can you beat that?
So yeah, there is my not so small list of series that I feel like I will never catch up on but really hope that some day I will..
So have you read any of these? Are you as behind on them as I am? What are your series that you love but are so behind on you feel like you will never get caught up on?