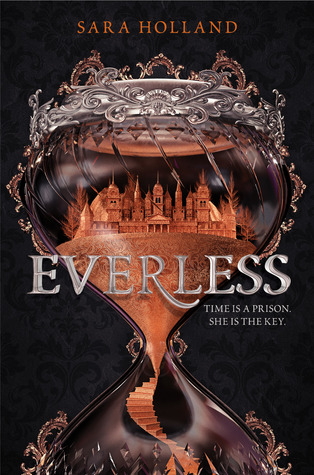 Title: Everless
Author: Sara Holland
Series: Book One
Published By: HarperTeen (January 2, 2018)
Source: ARC Provided by the Publisher
(in exchange for an honest review)
Genre: YA Fantasy
My Rating: 4.5 Stars!
Book Description:
In the land of Sempera, time is extracted from blood and used as payment. Jules Ember and her father were once servants at Everless, the wealthy Gerling family's estate, but were cast out after of a fateful accident a decade ago. Now, Jules's father is reaching his last hour, and she will do anything to save him. Desperate to earn time, she arrives at the palace as it prepares for a royal wedding, ready to begin her search into childhood secrets that she once believed to be no more than myths. As she uncovers lost truths, Jules spirals deeper into a past she hardly recognizes, and faces an ancient and dangerous foe who threatens her future and the future of time itself.
Every once in awhile you get a book that is so undeniably hard to put down that it makes you sad when you do have to set it down and put the world the author has created on hold. And even while on hold, you still think about it, picture it and maybe even obsess over it.
Everless took my breath away with the beautiful writing and horrifying world the author created. A world that was so much fun to be a part of, however long that was and one I want to go back to as soon as possible.
It was enchanting and mystifying, and so uniquely done that it really is hard to believe that this novel, this story was the author's first published work.
There are times when it pays to take a chance. To leap without looking and hope that you can fly. This was one of those times. I'm so very glad I got to be a part of this adventure and I don't want it to end, in fact, it won't end because as soon as book two is available, I will be right there again to enter it all over again.
*All thoughts and opinions are my own and were not influenced by the author or the publisher. I was not compensated for this review.*