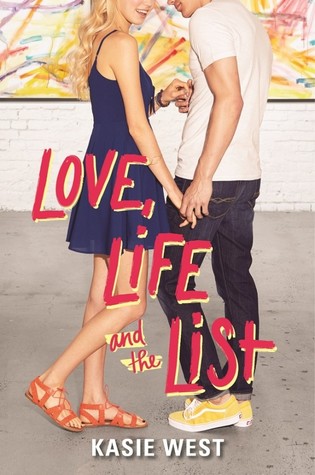 Title: Love, Life, and the List
Author: Kasie West
Series: Stand Alone
Published By: HarperTeen (December 21, 2017)
Source: ARC Provided by the Publisher
(in exchange for an honest review)
Genre: YA Contemporary
My Rating: 4 Stars!
Book Description:
Seventeen-year-old Abby Turner's summer isn't going the way she'd planned. She has a not-so-secret but definitely unrequited crush on her best friend, Cooper. She hasn't been able to manage her mother's growing issues with anxiety. And now she's been rejected from an art show because her work "has no heart." So when she gets another opportunity to show her paintings Abby isn't going to take any chances.
Which is where the list comes in.
Abby gives herself one month to do ten things, ranging from face a fear (#3) to learn a stranger's story (#5) to fall in love (#8). She knows that if she can complete the list she'll become the kind of artist she's always dreamed of being. But as the deadline approaches, Abby realizes that getting through the list isn't as straightforward as it seems… and that maybe—just maybe—she can't change her art if she isn't first willing to change herself.
This is the first in a set of three standalone books with crossover characters.
I have always loved Kasie West's stories. From her endearing characters to the heartfelt story line that always leaves you with a smile on your face by the end. But there are some, that just resonate with me and Love, Life and The List was one such story.
I connected so much with Abby in a deeper emotional level than I thought I would. In some areas she spoke to me in ways that I haven't had happen in a YA story in a really long time and because of it, I simply couldn't put this down. I read it in one sitting and barely even took breaks to get a drink or answer a text. Something about Abby's story just spoke to me and I can't even say for sure why other than West is just an amazing writer and just knows how to put enough emotion and depth into her stories and characters that almost anyone can't help but love them and feel for them.
This truly was a favorite from West and a story that I won't be forgetting anytime soon. I love when an author can speak to you and change you and worm their way into your very soul and West succeeded brilliantly here in doing so.
*All thoughts and opinions are my own and were not influenced by the author or the publisher. I was not compensated for this review.*