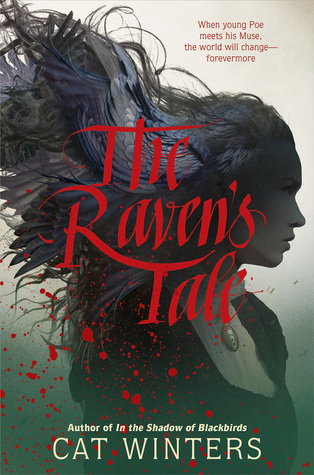 Title: The Raven's Tale
Author: Cat Winters
Series: Stand Alone
Genre: YA Fantasy
Published By: Amulet (April 16, 2019)
Source: ARC Provided by the Publisher
(in exchange for an honest review)
My Rating: 4 Stars
Book Description:
Seventeen-year-old Edgar Poe counts down the days until he can escape his foster family—the wealthy Allans of Richmond, Virginia. He hungers for his upcoming life as a student at the prestigious new university, almost as much as he longs to marry his beloved Elmira Royster. However, on the brink of his departure, all his plans go awry when a macabre Muse named Lenore appears to him. Muses are frightful creatures that lead Artists down a path of ruin and disgrace, and no respectable person could possibly understand or accept them. But Lenore steps out of the shadows with one request: "Let them see me!"
With a dark almost macabre feel, The Raven's Tale is classic Poe without being classic Poe.
With nods to both Poe himself and Shakespeare, this wonderfully imaginative and lushly enchanting tale was hard not to get wrapped up in.
With all the tragedy, angst and horror one would expect from both Poe and Winters, the two combined created on heck of a story line that was everything I was expecting and hoping for.
Twisted, dark, and filled with all the things I remember from my Poe days, I loved both the lines from some of Poe's finest tales and poems right down to the twist of his muse taunting him in all the most horrific ways one can imagine for a muse to taunt and tease and torment. Truly a delightful read that had me completely captivated and wanting more.
*All thoughts and opinions are my own and not influenced by the author or publisher. I was not compensated for this review.*