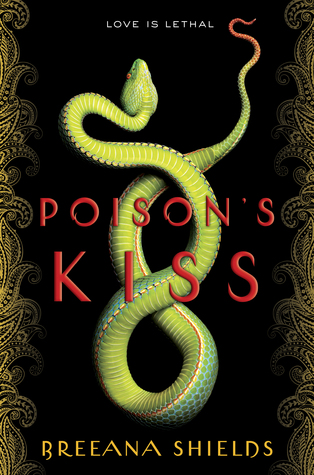 Title: Poison's Kiss
Author: Breeana Shields
Series: Stand Alone
Published By: Random House For Young Readers (January 10, 2017)
Source: ARC Copy Provided by the Publisher
(in exchange for an honest review)
Genre: Fantasy
My Rating: 4 Stars!
Book Description:
A teenage assassin kills with a single kiss until she is ordered to kill the one boy she loves. This commercial YA fantasy is romantic and addictive like-- a poison kiss-- and will thrill fans of Sarah J. Maas and Victoria Aveyard.
Marinda has kissed dozens of boys. They all die afterward. It s a miserable life, but being a visha kanya a poison maiden is what she was created to do. Marinda serves the Raja by dispatching his enemies with only her lips as a weapon.
Until now, the men she was ordered to kiss have been strangers, enemies of the kingdom. Then she receives orders to kiss Deven, a boy she knows too well to be convinced he needs to die. She begins to question who she s really working for. And that is a thread that, once pulled, will unravel more than she can afford to lose.
This rich, surprising, and accessible debut is based in Indian folklore and delivers a story that will keep readers on the edge of their seats.
With a description that insinuates that both fans of Maas and Aveyard will love this debut novel, it was hard to not want to pick it up. Add in the eye catching cover and the alluring synopsis and it was pretty much hard for me to resist at all and I didn't find myself wanting to. So with fingers crossed I downloaded this and dove in.
And while this was an imaginative it was also weirdly addicting. Even though it truly wasn't anything unheard of in the world of YA, it was very well written and executed and I found myself quickly turning the pages wanting more as the story went. With slight twists and turns and a romance that was sweet, this really was a fun read and one that I don't regret reading in the slightest.
*All thoughts and opinions are my own and were not influenced by the author or publisher. I was not compensated for this review.*