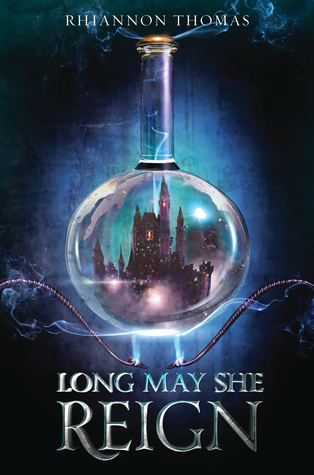 Title: Long May She Reign
Author: Rhiannon Thomas
Series: Stand Alone
Published By: Harper Teen (February 21, 2017)
Source: ARC Copy Provided by the Publisher
(in exchange for an honest review)
Genre: Fantasy
My Rating: 3.5-4 Stars!
Book Description

:
The Girl of Fire and Thorns meets The Queen of the Tearling in this thrilling fantasy standalone about one girl's unexpected rise to power.
Freya was never meant be queen. Twenty third in line to the throne, she never dreamed of a life in the palace, and would much rather research in her laboratory than participate in the intrigues of court. However, when an extravagant banquet turns deadly and the king and those closest to him are poisoned, Freya suddenly finds herself on the throne.
Freya may have escaped the massacre, but she is far from safe. The nobles don't respect her, her councillors want to control her, and with the mystery of who killed the king still unsolved, Freya knows that a single mistake could cost her the kingdom – and her life.
Freya is determined to survive, and that means uncovering the murderers herself. Until then, she can't trust anyone. Not her advisors. Not the king's dashing and enigmatic illegitimate son. Not even her own father, who always wanted the best for her, but also wanted more power for himself.
As Freya's enemies close in and her loyalties are tested, she must decide if she is ready to rule and, if so, how far she is willing to go to keep the crown.
I was drawn to this story after seeing the cover and reading the synopsis and that fascination, that curiosity just grew after the first chapter and even more so the further I got into the story.
The fact that this is a stand alone, made it even more appealing. The simple truth that it was somewhat addicting and hard to put down, even better.
Let's face it, there are very little stand alone novels out there lately. Instead the market of both adult and young adult, are riddled with duologies, trilogies, and series, and while I love them, it is nice to have a read once in a while that you know will be all done, all wrapped up in one sitting. Add in a protagonist that is every bit as compassionate as she is headstrong and smart, you have a story that was down right irresistible.
I was really surprised with how much I enjoyed this and I can't even completely say why other than it was just really fun and downright entertaining. It wasn't a completely new concept but it was a well written one and that mattered more to me than anything else. These days having a read that is just good and gives me what I want just when I want it, seems to matter more than originality or unique design.
If you are looking for something that will let you get away for awhile, entertain, and just let you have a good time, this is the read for you.
*All thoughts and opinions are my own and were not influenced by the author or publisher. I was not compensated for this review.*