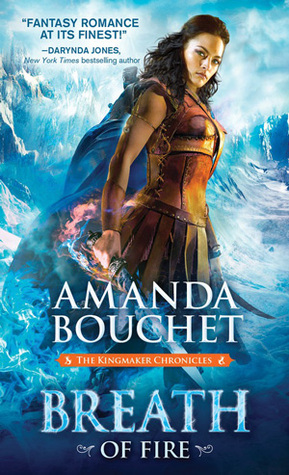 Title: Breath of Fire
Author: Amanda Bouchet
Series: Book Two in the Kingmaker Chronicles
Published By: Sourcefire Casablanca (January 3, 2017)
Source: ARC Copy Provided by the Publisher
(in exchange for an honest review)
Genre: Urban Fantasy
My Rating: 4.5 Stars!
Book Description:
SHE'S DESTINED TO DESTROY THE WORLD...
"Cat" Catalia Fisa has been running from her destiny since she could crawl. But now, her newfound loved ones are caught between the shadow of Cat's tortured past and the threat of her world-shattering future. So what's a girl to do when she knows it's her fate to be the harbinger of doom? Everything in her power.
BUT NOT IF SHE CAN HELP IT
Griffin knows Cat is destined to change the world-for the better. As the realms are descending into all-out war, Cat and Griffin must embrace their fate together. Gods willing, they will emerge side-by-side in the heart of their future kingdom...or not at all.
I didn't know what to expect when I started this story. The first book had everything in it I've honestly come to dislike in fantasies. All the old and tired cliches and tropes and predictability and yet the book, the story, the characters they all worked and not only worked but completely drew you in, caught you up in everything that was happening, and there was always a lot happening. It was fabulous and shocking and completely took me by surprise.
The blend of fantasy with mystery and mythology is what really did me in, not to mention the over the top steamy romance that was every bit as hard to resist. And while some things still remained predictable, the writing and storyline still managed to hook and lure you in until the very last page was turned. It was completely irresistible and hard to put down and I can't wait for more!
*All thoughts and opinions are my own and were not influenced by the author or publisher. I was not compensated for this review.*