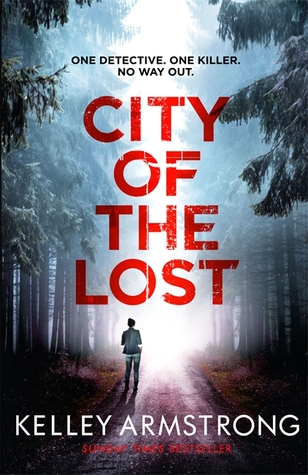 Title: City of the Lost
Author: Kelley Armstrong
Series: Book One in the Casey Duncan Series
Published By: Sphere (January 2, 2016)
Source: Copy Provided by the Publisher
(in exchange for an honest review)
Genre: Mystery/Thriller
My Rating: 5 Stars!
Book Description:
New York Times and Globe and Mail bestselling author Kelley Armstrong delivers us to Rockton, a secret little town in the far north where the hunted go to hide. And where a hunter has now come to play.
Casey Duncan once killed a man and got away with it. Since then she's become a talented police detective, tethered only to her job, her best friend, Diana, and the occasional evening with her sexy, no-strings-attached ex-con lover, Kurt. But then Diana's abusive ex finds her again, despite all Casey has done to help her disappear. And Casey's own dark past begins to catch up with her. The two women need to run—and Diana's heard of a place where they won't be found, a town especially for people like them…
I've been a fan of Armstrong's since first reading her YA series way back when and as my tastes have changed and grown and I finally branched out to her adult books, that love has never faltered.
She is a fantastic writer, one that keeps you at the edge of your seat completely entertained and completely enthralled. When I saw a new thriller mystery from her set in an usual setting with characters ever bit as unique, I knew it was something that I needed to try.
I got every single thing from this book that I have come to expect from Armstrong's writing. An original storyline, uncharacteristic characters, and a mystery that kept me not only guessing but turning the pages.
It was hard not falling in love with the foul mouthed surly Dalton and the headstrong and smart Casey as well as the very rustic and slightly off town of Rockton. If you want something different, something different from the norm but so well written and plotted that it is every bit as believable as it is addicting, this is the story for you. I am completely hooked and can not wait for more.
*All thoughts and opinions are my own and were not influenced by the author or publisher. I was not compensated for this review.*