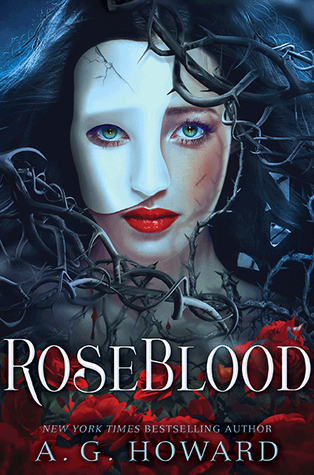 Title: Roseblood
Author: A.G. Howard
Series: Stand Alone
Published By: Amulet Books (January 10, 2017)
Source: ARC Copy Provided by the Publisher
(in exchange for an honest review)
Genre: Retelling/Fantasy
My Rating: 4.5 Stars!
Book Description:
In this modern day spin on Leroux's gothic tale of unrequited love turned to madness, seventeen-year-old Rune Germain has a mysterious affliction linked to her operatic talent, and a horrifying mistake she's trying to hide. Hoping creative direction will help her, Rune's mother sends her to a French arts conservatory for her senior year, located in an opera house rumored to have ties to The Phantom of the Opera.
At RoseBlood, Rune secretly befriends the masked Thorn—an elusive violinist who not only guides her musical transformation through dreams that seem more real than reality itself, but somehow knows who she is behind her own masks. As the two discover an otherworldly connection and a soul-deep romance blossoms, Thorn's dark agenda comes to light and he's forced to make a deadly choice: lead Rune to her destruction, or face the wrath of the phantom who has haunted the opera house for a century, and is the only father he's ever known.
With Howard's imaginative take on Alice in Wonderland with her Splintered series, it wasn't a surprise that I would want to see what she could do with another classic like Phantom of the Opera. A classic already riddled with dark intent, mystery, and an obsession that bordered the line of love and hate and most of all one that transcended time.
I wouldn't of expected anything short of fabulous and anything less than the strange, unusual, and the fantastical.
Howard has a skill to not only recreate a classic but completely twist it up and give it not only a darker edge but one that makes it feel completely new. She never fails to create something almost unimaginable and yet so very believable all at the same time. Something beautiful and almost poetic in execution and design.
This was a beautiful story that held true to the classic but still managed to hold up as its own story and was every bit as enchanting as the classic.
*All thoughts and opinions are my own and were not influenced by the author or publisher. I was not compensated for this review.*