I am so excited to be a part of this blog tour because as most of you may have saw (review here), I really had fun reading this one and I just love this author. All her stories and retellings are just brilliant.
In case you missed my review for Aimee, please check it out HERE!
Thank you so much Ophelia for being here today!!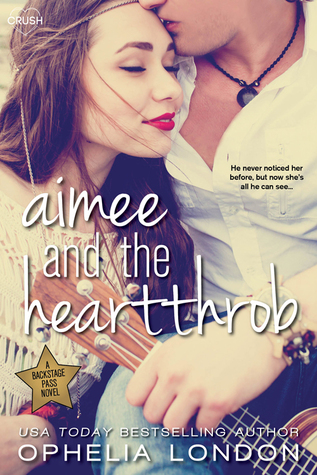 Published By: Entangled Crush (April 14, 2015)
Book Description:
He never noticed her before, but now she's all he can see…
Miles Carlisle is every teen girl's fantasy. His rugged good looks and exotic British accent have helped catapult his boy band, Seconds to Juliet, to super-stardom. But after two disastrous and very public breakups, Miles isn't interested in dating just any girl; he wants The One. And the only girl he's interested in is not only his best friend's little sister―and off-limits―but won't even give him the time of day…
As a kid, Aimee Bingham had a huge thing for Miles…until he made fun of her for always tagging along. Now that she's outgrown both him and her pigtails. the prospect of spending two weeks on tour with the childhood crush who broke her heart isn't exactly enticing. Except now Miles seems interested. Very interested. And no matter how hard Aimee tries to resist him, her crush is definitely making a comeback.
But everyone knows that falling for a heartthrob is a backstage pass to heartbreak…
*Amazon*B&N*Kobo*
About the Author: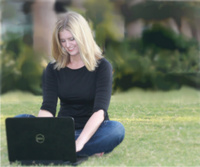 USA Today bestselling author Ophelia London was born and raised among the redwood trees in beautiful northern California. Once she was fully educated, she decided to settle in Florida, but her car broke down in Texas and she's lived in Dallas ever since. A cupcake and treadmill aficionado (obviously those things are connected), she spends her time watching arthouse movies and impossibly trashy TV, while living vicariously through the characters in the books she writes. Ophelia is the author of SOMEDAY MAYBE; DEFINITELY, MAYBE IN LOVE; ABBY ROAD and CROSSING ABBY ROAD; the Perfect Kisses series including: FALLING FOR HER SOLDIER, PLAYING AT LOVE, SPEAKING OF LOVE, and MAKING WAVES; the upcoming AIMEE AND THE HEARTTHROB for Entangled's Teen Crush line, and the upcoming Sugar City series for Entangled's Bliss line. Visit her at ophelialondon.com. But don't call when The Vampire Diaries (or Dawson's Creek) is on.
Facebook
Instagram
Twitter
Website
Tumblr
Guest Post:
Topic: where your inspiration comes from. Are any of your characters in your stories from real life people?
Hey guys! I'm so happy to be here. I've been asked to share with you about where my inspiration comes from, and if any of my characters come from my real life. Great topic! My newest book, Aimee and the Heartthrob, is about Miles Carlisle, a hottie in a boyband. Although I've never met a member of a boyband, I have yeeeeeeears of experience loving boybands. So maybe I'm more like Aimee in the story, who falls in love with Miles. Yeah, I have plenty of that kind of experience!
I love writing romance, about first kisses and last kisses and all the kisses in between. And I've been dating for a long time, so, as far as wondering if any of the characters I write are based on real people…the answer is definitely yes. Though I try to be sensitive and at least change the names and parts of the details. But sometimes, I don't change a single thing. For example…
In Aimee and the Heartthrob, to help Miles break his writers block, Aimee challenges him to write her a song on the piano (because he really wants to branch out and learn more instruments). Miles struggles with the challenge for a while, until he comes up with a creative and romantic way to satisfy Aimee's challenge. I never give spoilers, so you'll have to read the book to find out what Miles does. But I will tell you this: When I was in college, I dated a guy in a band who was having the same creativity struggle as Miles. I issued him the same challenge as in the book, and what Miles does is the same thing that my guy did. Yeah, so I pretty much stole that entire experience, but I checked with my ex first, making sure it would be okay if I shared with the world exactly how he wrote "On the Piano." And the rest, as they say, is history!
So there you have it. Yes, I'm inspired from past experiences, and double yes, I definitely write about people in my real life. As I've told my friends for years, "be careful what you say, you might end up in my novel." Hee-hee