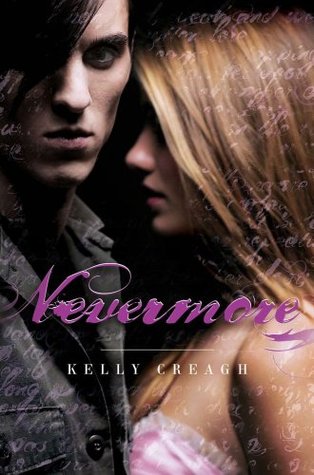 Title: Nevermore
Author: Kelly Creagh
Series: Book One in the Nevermore Trilogy
Published By: Atheneum Young Readers (August 31, 2010)
Source: Purchased
Genre: YA Paranormal
My Rating: 4 Stars
Book Description:
Cheerleader Isobel Lanley is horrified when she is paired with Varen Nethers for an English project, which is due—so unfair—on the day of the rival game. Cold and aloof, sardonic and sharp-tongued, Varen makes it clear he'd rather not have anything to do with her either. But when Isobel discovers strange writing in his journal, she can't help but give this enigmatic boy with the piercing eyes another look.
Soon, Isobel finds herself making excuses to be with Varen. Steadily pulled away from her friends and her possessive boyfriend, Isobel ventures deeper and deeper into the dream world Varen has created through the pages of his notebook, a realm where the terrifying stories of Edgar Allan Poe come to life.
As her world begins to unravel around her, Isobel discovers that dreams, like words, hold more power than she ever imagined, and that the most frightening realities are those of the mind. Now she must find a way to reach Varen before he is consumed by the shadows of his own nightmares.
His life depends on it.
I think some people know this about me but in case not, it bears repeating. I went through a Poe phase in high school. For whatever reason, the man and his work fascinated me. I ended up reading just about everything he had to offer and then some in the period of a couple of months. It wasn't until I was out of things to read by him that I later dove into his actual life. And let me tell you, it was an interesting journey. One filled with torment and rage and so much sadness not to mention rantings, ravings, and maybe even a hint of genius.
So of course, it was without hesitation that I picked this up. I admit, I was curious. I wanted to know what spin the author could put on Poe in the modern day. What horrors she would uncover, what madness she would unveil.
And this book was everything I hoped it would be and maybe even some I would rather it not have been.
It was something Poe would have been proud of I think. Something strange and delusional at best and hysteria and bizarre-ness at the very least and of course, I loved it.
I loved the craziness. The unusual and yes, the extreme hint of madness that was Poe that someone leaked onto the pages in this story even though it wasn't truly about Poe at all.
The tale hypnotized me. It made me turn the pages and keep going until the very end.
It fascinated me. It intrigued me and it left me thankful I had the next book to read.