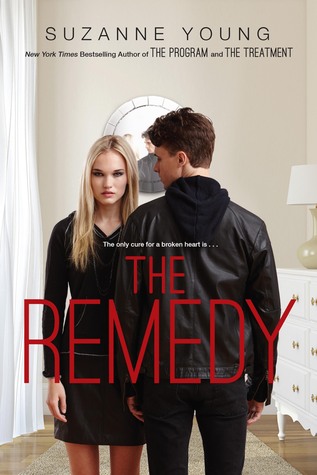 Title: The Remedy
Author: Suzanne Young
Series: Prequel to the Program Series
Published By: Simon Pulse (April 21, 2015)
Source: ARC Copy Provided by the Publisher
(in exchange for an honest review)
Genre: YA Dystopian
My Rating: 4 Stars!
Book Description:
In a world before The Program…
Quinlan McKee is a closer. Since the age of seven, Quinn has held the responsibility of providing closure to grieving families with a special skill—she can "become" anyone.
Recommended by grief counselors, Quinn is hired by families to take on the short-term role of a deceased loved one between the ages of fifteen and twenty. She's not an exact copy, of course, but she wears their clothes and changes her hair, studies them through pictures and videos, and soon, Quinn can act like them, smell like them, and be them for all intents and purposes. But to do her job successfully, she can't get attached.
Now seventeen, Quinn is deft at recreating herself, sometimes confusing her own past with those of the people she's portrayed. When she's given her longest assignment, playing the role of Catalina Barnes, Quinn begins to bond with the deceased girl's boyfriend. But that's only the beginning of the complications, especially when Quinn finds out the truth about Catalina's death. And the epidemic it could start.
Young has quickly become a favorite of mine with her imaginative, creative, and sometimes heartbreaking worlds and charismatic characters. So it was without a hint of nervousness that I picked this up, eager for more set in the same world as her Treatment series.
Young once again managed to come up with something imaginative and so well written that the words seemed to flow off the page and sweep you up in their warm current and carry you away.
The idea behind The Remedy was both fascinating and morbid. I found myself one minute being sympathetic to those that needed it and cheering for the very idea of it helping someone and the next jeering right along with those that mocked it and thought it was an awful horrible and even demented idea.
My constant flip flop of opinion just reverberated to me how wonderful of a writer Young is, that I could feel all the emotions of all the characters, good or bad, conflicting or not.
I found myself wrapped up in the story and completely enthralled by it. So many things made sense and slowly came together from the previous reads. Questions that I didn't even know I had about the first two books, were answered. It was enlightening and eye opening while still bringing about more questions. More questions that I just knew I needed answered and while some were, some weren't and others just left me wanting more.
I'm seriously keeping my fingers crossed that this isn't the end of this world. I would love to get more because I'm just not ready to say goodbye.
*All thoughts and opinions are my own and were not influenced by the author or publisher. I was not compensated for this review.*