Waiting on Wednesday is a weekly meme hosted by Jill at Breaking the Spine. It is a chance to share those new releases were are super anxious to get our hands on and read.
Have I ever mentioned how much I love doing this post each week? It offers me a guilt free excuse to browse through all the upcoming releases. Like I really need an excuse to do that more than I already do right? :P
I love, LOVE this next series so it is no wonder I am anxiously awaiting book 8 of it. This is one of those series that while yes, it is on book 8, it is still going strong.
Have you tried this series yet? If not, what the heck are you waiting for? Try it, today! Don't let the number of books already released scare you, this is one series you don't want to miss out on.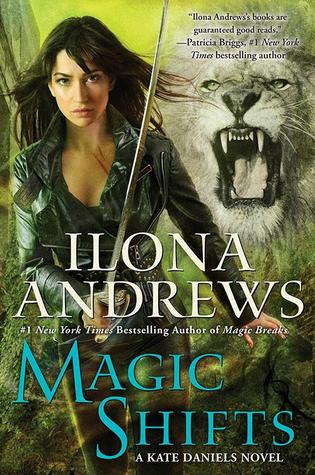 Release Date: August 4, 2015 (Ace)
Book Description:
In the latest Kate Daniels novel from #1 New York Times bestselling author Ilona Andrews, magic is coming and going in waves in post-Shift Atlanta—and each crest leaves danger in its wake…
After breaking from life with the Pack, mercenary Kate Daniels and her mate—former Beast Lord Curran Lennart—are adjusting to a very different pace. While they're thrilled to escape all the infighting, Curran misses the constant challenges of leading the shapeshifters.
So when the Pack offers him its stake in the Mercenary Guild, Curran seizes the opportunity—too bad the Guild wants nothing to do with him and Kate. Luckily, as a veteran merc, Kate can take over any of the Guild's unfinished jobs in order to bring in money and build their reputation. But what Kate and Curran don't realize is that the odd jobs they've been working are all connected.
An ancient enemy has arisen, and Kate and Curran are the only ones who can stop it—before it takes their city apart piece by piece…
I am so excited! I need more Kate and Curran in my life. ;)