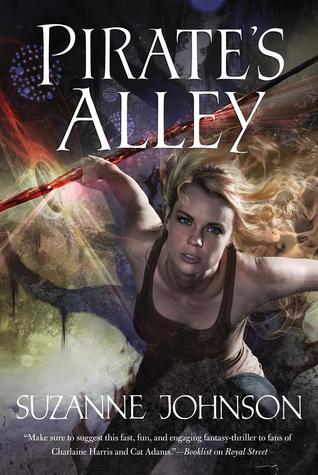 Title: Pirate's Alley
Author: Suzanne Johnson
Series: Book Four in the Sentinels of New Orleans Series
Published By: Tor Books (April 21. 2015)
Source: ARC Copy Provided by the Author
(in exchange for an honest review)
Genre: Urban Fantasy
My Rating: 5 Stars!
Book Description:
Wizard sentinel DJ Jaco thought she had gotten used to the chaos of her life in post-Katrina New Orleans, but a new threat is looming, one that will test every relationship she holds dear.
Caught in the middle of a rising struggle between the major powers in the supernatural world—the Wizards, Elves, Vampires and the Fae—DJ finds her loyalties torn and her mettle tested in matters both professional and personal.
Her relationship with enforcer Alex Warin is shaky, her non-husband, Quince Randolph, is growing more powerful, and her best friend, Eugenie, has a bombshell that could blow everything to Elfheim and back. And that's before the French pirate, Jean Lafitte, newly revived from his latest "death," returns to New Orleans with vengeance on his mind. DJ's assignment? Keep the sexy leader of the historical undead out of trouble. Good luck with that.
Duty clashes with love, loyalty with deception, and friendship with responsibility as DJ navigates passion and politics in the murky waters of a New Orleans caught in the grips of a brutal winter that might have nothing to do with Mother Nature.
War could be brewing, and DJ will be forced to take a stand. But choosing sides won't be that easy.
Have I mentioned how much I adore this series? Because I do, I really really do.
Suzanne is such an amazing writer, no matter what it is that she writes, truly, but this series, set in the heart of New Orleans, is just something special and by far my favorite of her's. And then there is Jean, really, if you have read this series before, you know exactly what I mean about "Jean". The sexy as all get out undead pirate. Jean, 'nough said. Okay, maybe that isn't quite enough said, but close.
Truly, this series is packed full of wonderful characters. Some I already loved, and others, after this book, I love even more.
This was not a disappointment, in fact, I am so in love with this series and I already loved it but there was just something about this that was...more. More action, more danger, more mystery, more romance, more magic, more deception, more adventure, more, more, more.
I am in awe with the fast moving plot line, the fun premises, even better setting, and characters that are hard not to root for and fall in love with.
D,J, has been through so much and even though she was already one tough, fierce chick, she grows even more. So much happened and so much left is still to happen. I can't even begin to tell you that this was a fabulous addition to the series and the ending left me almost in tears because I wasn't ready for it to be over and I simply wanted more. Johnson is a bit mean for leaving it the way she did but it also makes me that much more excited for what is to come.
*All thoughts and opinions are my own and were not influenced by the author or publisher. I was not compensated for this review.*