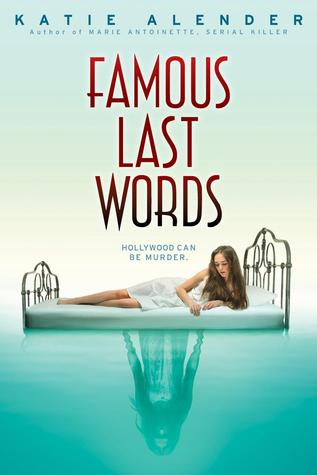 Title: Famous Last Words
Author: Katie Alender
Series: Stand Alone
Published By: Point (September 30, 2014)
Source: Purchased
Genre: YA Paranormal
My Rating: 4 Stars!
Book Description:
Hollywood history, mystery, murder, mayhem, and delicious romance collide in this unputdownable thriller from master storyteller Katie Alender.
Willa is freaking out. It seems like she's seeing things. Like a dead body in her swimming pool. Frantic messages on her walls. A reflection that is not her own. It's almost as if someone -- or something -- is trying to send her a message.
Meanwhile, a killer is stalking Los Angeles -- a killer who reenacts famous movie murder scenes. Could Willa's strange visions have to do with these unsolved murders? Or is she going crazy? And who can she confide in? There's Marnie, her new friend who may not be totally trustworthy. And there's Reed, who's ridiculously handsome and seems to get Willa. There's also Wyatt, who's super smart but unhealthily obsessed with the Hollywood Killer.
All Willa knows is, she has to confront the possible-ghost in her house, or she just might lose her mind . . . or her life.
Acclaimed author Katie Alender puts an unforgettable twist on this spine-chilling tale of murder, mystery, mayhem -- and the movies.
I was so hoping from that fun cover to the alluring synopsis that this would be a paranormal read. Something all about ghosts and all things that go bump in the night.
The first chapter was good, definitely piqued my interest, but the second chapter, the second chapter had me already craving more.
I wasn't expecting to love this as much as I did. In short, this was just a whole lot of fun, a little creepy, a little mysterious, and just unputdownable.
Willa was relatable, real, and although she was going through a tough time, I liked her. I liked that she wasn't perfect and that she had problems and issues and I liked even more that it wasn't always easy to tell if what Willa saw and heard at night was real or just all in her head.
For once I liked that this book wasn't focused on a romance, although there is one, sort of, it didn't really matter because what really mattered, was the serial killer running lose in Hollywood, and the disturbances that were happening at home with Willa. The romance never took away from the story but instead just added another layer of depth that was comforting and nice like a nice pair of fuzzy socks in the winter.
Overall, this was a great mystery, action packed and kept me on my toes. I will definitely be checking out the author's other books to make sure I have them.