I love being a part of anything that has to do with Hoover's writing because I always know I will love whatever it happens to be. With the case of her new book, November 9, I was once again blown away and thrown on an emotional roller coaster that was so worth the ups and downs.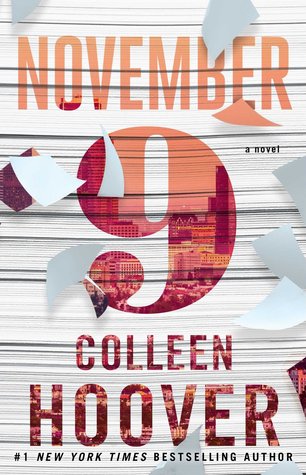 Title: November 9
Author: Colleen Hoover
Series: Stand Alone
Published By: Atria (November 10, 2015)
Source: An ARC copy was provided by the publisher in exchange for an honest review.


Book Description:
Beloved #1 New York Times bestselling author Colleen Hoover returns with an unforgettable love story between a writer and his unexpected muse.
Fallon meets Ben, an aspiring novelist, the day of her scheduled cross-country move. Their untimely attraction leads them to spend Fallon's last day in L.A. together, and her eventful life becomes the creative inspiration Ben has always sought for his novel. Over time and amidst the various relationships and tribulations of their own separate lives, they continue to meet on the same date every year. Until one day Fallon becomes unsure if Ben has been telling her the truth or fabricating a perfect reality for the sake of the ultimate plot twist.
About the Author:
Colleen Hoover is the #1 New York Times bestselling author of Slammed, Point of Retreat, This Girl, Hopeless, Losing Hope, Maybe Someday, Finding Cinderella, and Ugly Love. She lives in Texas with her husband and their three boys.
What can I possible say about this read that probably hasn't already been gushed about before me? Or for that matter the greatness that is Hoover's writing.
She always manages to amaze me no matter how many times in the past I have adored her novels, she still manages to surprise me, make me teary eyed and always leave me with a smile on my face. She comes out with fresh new ideas that melt my heart, tear it apart and always mend it back together again.
She truly is a master at what she does and what she does is write so freaking well that it blows me away, every. Single. Time.
With characters that are instantly relateable and so endearing that you can't help but fall in love with them. I immediately loved both Ben and Fallon and that love only grew as the story wore on. It was so very hard not to get wrapped up in their lives and care about the outcome. I was rooting for them the whole way through and, the best part besides the wonderful slow burning love story? All the book boyfriend cliches! I loved reading about Ben and Fallon and they "discussions" about book boyfriends. It was hilarious! Plus, hello Tate and Miles! Love loved that we get to see these two amazing people again!
All in all, another five star, blow me away, make me weep like a baby read.
*All thoughts and opinions are my own and were not influenced by the author or publisher. I was not compensated for this review.*