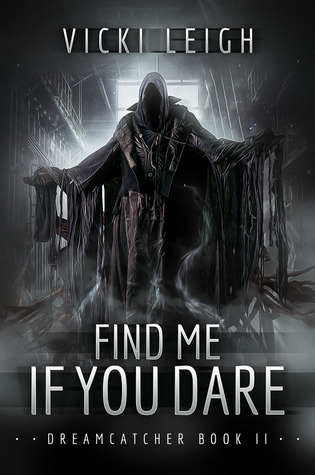 Title: Find Me If You Dare
Author: Vicki Leigh
Series: Book Two in the Dreamcatcher Series
Published By: Curiosity Quills (December 1, 2015)
Source: ARC Copy Provided by the Publisher
(in exchange for an honest review)
Genre: YA Fantasy
My Rating: 4 Stars!
Book Description:
They may have won the first battle, but the Apocalypse has just begun.
Five weeks have passed since the battle that left Rome and Columbus in ruins. Sheltered in the hidden city of Caelum, Daniel and Kayla train alongside over one hundred Magus and Protectors, hoping that their unified ranks will be enough to take down their greatest threat yet: Richard, his followers, and his horde of Nightmares. Then a fallen comrade is returned to Caelum with a message carved into his chest and a note referencing the four Horsemen of the Apocalypse, and Daniel knows their time for training is over.
Finally understanding Richard's plans for Kayla and the three other Magus born on Halloween, Daniel and the rest of Caelum's volunteers scout the U.S. in a desperate attempt to stop their enemy before he can unleash his first Horseman. But when massive attacks claim thousands of lives, people all over the world begin to fall ill—including those Daniel and Kayla care about the most.
With the Horseman of Pestilence released, Daniel knows it's time to step aside and let Kayla take the lead. Only she has the power to rival her father's. But when Richard's plot turns out to be darker than they imagined, their fight is met with more death and destruction—and an enemy who might be unbeatable, after all.
It isn't a secret that I love unique ideas, story lines, and characters and this series has them all.
This sequel was packed full of the good stuff. Action, danger, romance, and all the things that made the first so great but magnified and then put to the test.
Kayla grows so much stronger but with that growth also comes a darkness. So much bad happened in the first book and as Kayla, Daniel, and friends work through it, even more happens as these sort of things worked.
It was nice to see these group of friends work together, build a home, and do those things they need to to make the world a safe place and put things back to right.
This was a fabulous sequel and truly even more fun and action packed than the first and again, the concept behind it not lacking at all in originality.
If you are looking for something different, entertaining, and fun, this is the series for you.
*All thoughts ad opinions are my own and were not influenced by the author or publisher. I was not compensated for this review.*