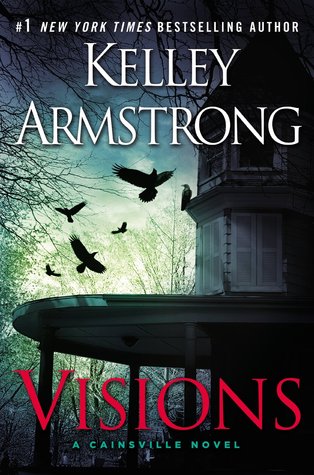 Title: Visions
Author: Kelley Armstrong
Series: Book Two in the Cainsville Series
Published By: Dutton (August 19, 2014)
Source: Borrowed
Genre: Urban Fantasy
My Rating: 5 Stars!
Book Description:
As #1 New York Times bestselling author Kelley Armstrong's new Cainsville series continues, Olivia's power to read omens leads to the discovery of a gruesome crime with troubling connections to her new hometown.
Omens, the first installment in Kelley Armstrong's exciting new series, introduced Olivia Taylor-Jones, daughter of notorious serial killers, and Gabriel Walsh, the self-serving, morally ambiguous lawyer who became her unlikely ally. Together, they chased down a devious killer and partially cleared her parents of their horrifying crimes.
Their success, however, is short-lived. While Olivia takes refuge in the old, secluded town of Cainsville, Gabriel's past mistakes have come to light, creating a rift between the pair just when she needs his help the most.
Olivia finds a dead woman in her car, dressed to look like her, but the body vanishes before anyone else sees it. Olivia's convinced it's another omen, a sign of impending danger. But then she learns that a troubled young woman went missing just days ago—the same woman Olivia found dead in her car. Someone has gone to great lengths to kill and leave this young woman as a warning. But why? And what role has her new home played in this disturbing murder?
Olivia's effort to uncover the truth places her in the crosshairs of old and powerful forces, forces that have their own agenda, and closely guarded secrets they don't want revealed.
It didn't take me long to pick this up after finishing Omens. I was completely hooked, intrigued, and on the edge of my seat not only with the mystery that is Cainsville, but with all the characters as well. This truly is a stand out series that ended up being so much more addictive than I had planned for.
And while so much was finally answered and revealed in this installment, so much more was questioned and brought to light as well and even though I am still on the edge of my seat and can't stop thinking about it all, I freaking love it!
I love books that worm their way into my thoughts and have me still thinking about them, days, weeks, later.
Not only did I love all the omens and the dangerous situations, but the romance was just amazing. And even though I see a very plausible love triangle on the horizon, I don't even care because the writing and the storyline is just that good and the two men, even more so.
I don't even know what else to say about this series without giving anything away other than if you are on the fence about starting it, don't be. Take the plunge and jump right in. It has so much to offer and truly is one that I think will stay with me long after I have finished it.