Yep, it's that time again, time to celebrate all the wonderful Harper Teen releases with another fabulous blog tour. This season I have the pleasure of hosting A Season For Fireflies! I'm so excited because you guys, this was such a cute and fun read and one that ended up being emotional too. It brought smiles, tears, laughs, and even frustration and I couldn't of been happier with it.
Harper Teen really does have some of the best, most EPIC books and authors out there.
You guys, you are going to fall in love with Wes, he is supreme book boyfriend material! Read this book!
Plus there are some amazing giveaways once again. Here are the rules for the giveaways, how to enter and down below at the bottom of the post will be a list of all the other blogs participating and of course the fabulous prizes. There is also going to be a fun FB chat on March 16th at 8pm EST so don't miss that either! Here is the link for that and the authors participating will be The authors this time participating are Julie Eshbaugh (IVORY & BONE), Lindsey Klingele (THE MARKED GIRL), Paula Stokes (GIRL AGAINST THE UNIVERSE), and Michelle Andreani & Mindi Scott (THE WAY BACK TO YOU).
There will also be tons of fun and prizes with this too so definitely don't miss it!
https://www.facebook.com/events/1681073622164713/
How to enter:
Collect the daily word from each blog stop during the Harper Summer 2016 Tour (a total of 50). Once you've collected them all, email the complete saying to: HarperTeenTour@gmail.com
Prize Rules:
1.) Winner must have a valid US mailing address to receive the prize
2.) Winner must be over 13
3.) Only one (1) entry per person for Prize #2 – duplicates will be deleted.
4.) Only a completed phrase will be accepted as an entry – do not email each word/phrase daily. Wait until you have the complete saying and then email in.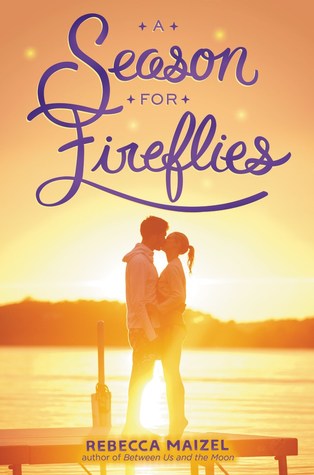 Published By: Harper Teen (June 28, 2016)
Book Description:
A story of second chances from the author of Between Us and the Moon, which Kirkus Reviews called "what first love is meant to be."
A year ago, Penny Berne was the star of her high school's theater department, surrounded by a group of misfit friends and falling in love for the first time. Now her old friends won't talk to her, her new best friend is the most popular girl in school, and her first love, Wes, ignores her. Penny is revered and hated. Then, in a flash, a near-fatal lightning strike leaves Penny with no memory of the past year—or how she went from drama nerd to queen bee.
As a record number of fireflies light up her town and her life, Penny realizes she may be able to make things right again—and that even if she can't change the past, she can learn to see the magic where she never could before.
This captivating new novel about first love, second chances, and the power of memory is perfect for fans of Lauren Oliver's Before I Fall and Katie Cotugno's How to Love.
About the Author:
Rebecca Maizel is the author of the Vampire Queen novel series including the acclaimed Infinite Days, Stolen Nights and Eternal Dawn. She has a forthcoming novel, Between Us And The Moon coming out with Harper Collins in 2015!
It takes a lot anymore to truly impress me when it comes to this genre. There are so many young adult contemporary reads and sadly, most of them are so much alike that it is hard to tell one from the other, so it's with pleasure that I tell you, this read was not only heartwarming, but it truly did stick out.
The characters were just fun and memorable and yes, swoon worthy. Wes was someone that any person who keeps a list of book boyfriends, needs to add his name to the list because yes, he is that awesome. Kind, caring, romantic, and one heck of an inventor, he truly was the very best part of this novel. Well, that and the fabulous writing.
This isn't the same old story wrung out and retold but rather something that will touch you, make you teary eyed, make you smile, and most of all leave you with a warm feeling deep in your heart that will sit there hours after you are done.
Fresh, fun, heartwarming and some pretty amazing characters, this is one novels fans of the genre will not want to miss out on.
#1 – A Harper Teen Summer 2016 Catalog prizepack of 45 books*.
*Titles not included: The Crown by Kiera Cass, Escape from Asylum by Madeline Roux, Sing by Vivi Greene, The Countdown by Kimberly Derting, & United As One by Pittacus Lore
In addition to the one massive prize winner, we will also have 4 winners who will be able to select 3 titles they want from the Summer 2016 Catalog.
US Only
#2 – 5 Finished Copies from the Harper Teen Winter 2016 Catalog
5 books are: Front Lines by Michael Grant, Revenge & the Wild by Michelle Modesto, The Lifeboat Clique by Kathy Parks, Symptoms of Being Human by Jeff Garvin, & The Girl from Everywhere by Heidi Heilig
US Only
a Rafflecopter giveaway