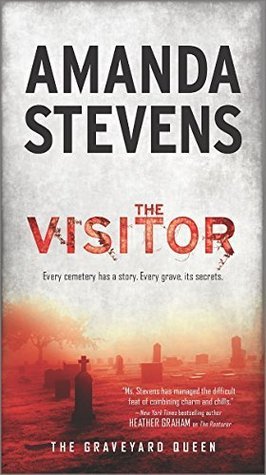 Title: The Visitor
Author: Amanda Stevens
Series: Book Four in the Graveyard Queen
Published By: MIRA (March 29, 2016)
Source: ARC Copy Provided by the Publisher
(in exchange for an honest review)
Genre: Paranormal
My Rating: 4 Stars!
Book Description:
My name is Amelia Gray. I'm the Graveyard Queen.
Restoring lost and abandoned cemeteries is my profession, but I'm starting to believe that my true calling is deciphering the riddles of the dead. Legend has it that Kroll Cemetery is a puzzle no one has ever been able to solve. For over half a century, the answer has remained hidden within the strange headstone inscriptions and intricate engravings. Because uncovering the mystery of that tiny, remote graveyard may come at a terrible price.
Years after their mass death, Ezra Kroll's disciples lie unquiet, their tormented souls trapped within the walls of Kroll Cemetery, waiting to be released by someone strong and clever enough to solve the puzzle. For whatever reason, I'm being summoned to that graveyard by both the living and the dead. Every lead I follow, every clue I unravel brings me closer to an unlikely killer and to a destiny that will threaten my sanity and a future with my love, John Devlin.
Five Top Reason the Graveyard Queen Series and The Visitor is For You:
You love a rich atmospheric setting with all things that go bump in the night.
You love a hair raising, goosebump inducing ghost story that will have you looking over your shoulder and turning lights on in the middle of the day.
You love a good spell binding, hauntingly addictive mystery that will keep you on your toes and eagerly turning the pages.
A swoon worthy romance that will simultaneously melt you into a pile of goo and break your heart.
Outstanding, beautiful writing that will suck you in and refuse to let you go.
*All thoughts and opinions are my own and were not influenced by the author or publisher. I was not compensated for this review.*