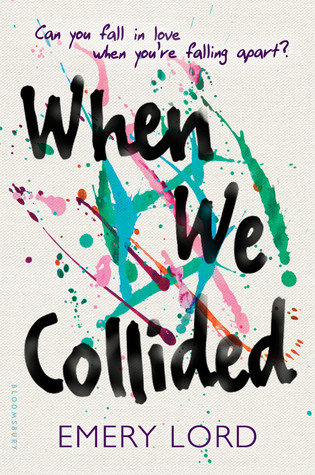 Title: When We Collided
Author: Emery Lord
Series: Stand Alone
Published By: Bloomsbury (April 5, 2016)
Source: ARC Copy Provided by the Publisher
(in exchange for an honest review)
Genre: YA Contemporary
My Rating: 4 Stars!
Book Description:
Meet Vivi and Jonah: A girl and a boy whose love has the power save or destroy them.
Vivi and Jonah couldn't be more different. Vivi craves anything joyful or beautiful that life can offer. Jonah has been burdened by responsibility for his family ever since his father died. As summer begins, Jonah resigns himself to another season of getting by. Then Vivi arrives, and suddenly life seems brighter and better. Jonah is the perfect project for Vivi, and things finally feel right for Jonah. Their love is the answer to everything. But soon Vivi's zest for life falters, as her adventurousness becomes true danger-seeking. Jonah tries to keep her safe, but there's something important Vivi hasn't told him.
Perfect for fans of E. Lockhart and Jandy Nelson, When We Collided is a powerful story of two teens whose love is put to the test by forces beyond their control.
Emery Lord is just one of those authors that you know her books are going to be meaningful and fun. With her mixed in humor along with the serious and sometimes tender moments, and you always have a winner and her latest release didn't veer off that path at all.
Heartfelt, funny, and tackling some pretty serious issues, Lord's pulled it off wonderfully.
I completely fell in love with the Daniel's, every single one of them and Vivi too. Their wonderfulness, their struggles, pain, toughness, goodness, oh my heart this book brought out the feel in all the best possible ways.
It melted me into a giant puddle of goo, crushed my heart, fixed me back up and then started all over again.
I can't even begin how refreshing this read was. It handles some very difficult situations and things so beautifully, so realistically that it is hard to explain other than it is something you need to experience and feel for yourself.
I'm so happy I picked this up when I did because it was exactly what I needed and reminded me all over again why I feel in love with this author and this genre.
*All thoughts and opinions are my own and were not influenced by the author or publisher. I was not compensated for this review.*