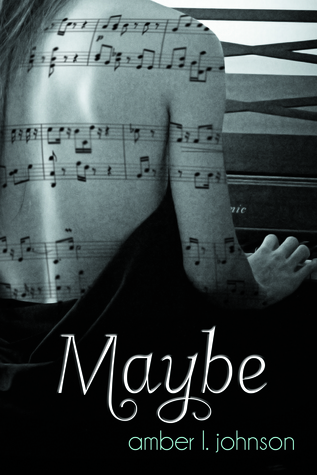 Title: Maybe
Author: Amber Johnson
Series: Stand Alone
Published: February 12, 2015
Source: Purchased
Genre: NA Contemporary
My Rating: 4 Stars
Book Description:
Letting go is hard. Admitting you need each other is harder.
Emily Portman loves her job. A writer for Breakout! Magazine, she shadows and showcases up-and-coming bands. When her next assignment takes her to Austin, Texas, she can't wait to add the city to her map of places she's visited. Places she's left without looking back. Her plan is to keep moving on, and the last thing she needs is a man holding her back. She's not going down that road again.
Tyler Macy is stuck in a rut. Despite his exceptional talent as a musician, he has chosen to take a back seat with his music and let others grab the limelight. Wounded and mistrustful, he doesn't appreciate his friends' efforts to bring him back to center stage. Emily comes onto the scene and sees his full potential, but he fights to stay in the shadows, shutting her out before she can add to the scars another woman gave him.
For Tyler to find his music again, he needs to accept the help that Emily and their friends offer. When he discovers that his muse lies underneath Emily's skin, it is still not enough to keep her from walking away. Neither will admit what they really want until it is too late.
Emily is once again thrown in Tyler's path when she is assigned to join them on tour. Despite the pain in his past, Tyler sees that she is worth it, even if she's stolen both his heart and peace of mind. In order for them to be together, they both must discover whether the music and their passion are enough to overcome the obstacles that separate them.
Maybe finding love is worth the risk.
After falling in love with Puddle Jumping last year and becoming one of my top YA reads, how could I not try another book by this author? In fact, if truth be told, after reading Puddle Jumping, I went out and bought multiple books by this author because I just knew she was going to become a favorite for me and I wasn't wrong. After reading Maybe, I can once again say, I just love her style, her characters and most of all, the love stories she creates.
While this was much spicier and steamier than I was anticipating, and definitely not for a younger crowd, I absolutely loved Tyler and Emily. Second chance romances are by far one of my top three tropes in any contemporary and the hate to love is another and this amazing novel had both.
Their story was a sweet one but it was also riddled with annoyances, witty one liners, lots of tension, lots of steam, insults, and sweet tender moments to make it all worth it. It truly had a little bit of it all.
Throw in the journal entries from Tyler so we get that much needed glimpse into his thoughts, and this was a fantastic read that I won't be forgetting anytime soon. I love how music factored into their relationship and I adored how music came to Tyler, there was just something so endearing and almost magical about it.
This was another well done novel by this author and I can't wait to read more from her.