I am so excited to be a part of this blog tour because I absolutely not only loved Trouble From the Start, but every book I have read by Hawthorne. They are just so much darn fun and perfect for spring/summer!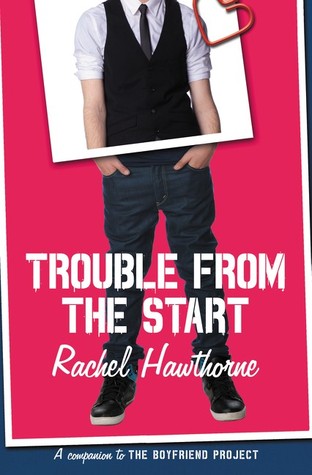 Published By: Harper Teen (April 28, 2015)
Book Description:
Perfect for fans of Stephanie Perkins, Lauren Barnholdt, and Susane Colasanti, Trouble from the Start is a sweet and romantic read about a good girl who falls for a bad boy.
Avery knows better than to fall for Fletcher, the local bad boy who can't seem to outrun his reputation. Fletcher knows he shouldn't bother with college-bound, daughter-of-a-cop Avery. But when their paths cross, neither can deny the spark. Are they willing to go against everything and let their hearts lead the way? Or are they just flirting with disaster?
A companion novel to Rachel Hawthorne's paperback original The Boyfriend Project, this title is perfect for fans of summer beach reads and sweet treats.
*Amazon*B&N*Book Depository*iBooks*
About the Author:
Rachel Hawthorne, who also writes as Lorraine Heath and Jade Parker, is the daughter of a British beauty (her mother won second place in a beauty contest sponsored by Max Factor® during which she received a kiss from Caesar Romero-who played the Joker on the old Batman TV series) and a Texan who was stationed at Bovingdon while serving in the air force. Lorraine was born in Watford, Herts, England, but soon after moved to Texas. Her "dual" nationality has given her a love for all things British and Texan. She enjoys weaving both heritages through her stories.
When she received her BA degree in psychology from the University of Texas, she had no idea she had gained a foundation that would help her to create believable characters—characters that are often described as "real people." She writes for both adult and young adult readers. She received a Romantic Times Career Achievement Award for Americana historicals. Her novels have been recognized with a RITA, Romance Writers of America's most prestigious award for excellence, a HOLT medallion award honoring outstanding literary fiction, a Romantic Times Reviewer's Choice Award, five Texas Gold Awards, the Golden Quill Award, the Rising Star Award as well as other awards and recognitions. Her novels have been selections of the Doubleday and Rhapsody Book Club. Her novels have appeared on bestseller lists, including USA Today, Waldenbooks, and most recently, the New York Times.
Website
Tour Schedule:
Rachel Hawthorne has always been my go to author for whenever I want a sweet and fun romance that is just perfect for anytime of the year. When I saw that she had a companion novel to the Boyfriend League I just knew I needed to read it.
And honestly, I got everything I was looking for in this simple, sweet read that wasn't only a lot of fun, but also had the right amount of realness and romance that made me come back for more. In fact, it was really hard to put down. I truly loved Fletcher and Avery and even now, days later, I still get a smile on my face when I think about them and their story.
I adore reads like this one. I need them, I crave them, and I just can't get enough of them.
Hawthorne truly is one author that I will come back to time and time again simply because I know that she will give me a romance, a friendship, and a book with depth. Something just more than what others can give me. Something that can make me laugh, smile, and even bring tears to my eyes.
This was wonderfully done and I am truly excited to get more from this author. If you haven't tried her, I highly recommend her if you are in the mood for something sweet that will just let you get away for a few hours and give you a satisfying ending when it is over.
*All thoughts and opinions are my own and were not influenced by the author or publisher. I was not compensated for this review.
Open to US Residents Only.
a Rafflecopter giveaway