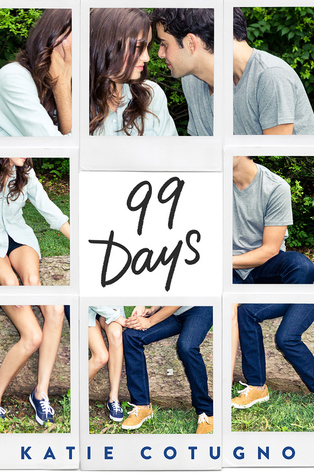 Title: 99 Days
Author: Katie Cotugno
Series: Stand Alone
Published By: Harper Teen (April 21, 2015)
Source: ARC Copy Provided by the Publisher
(in exchange for an honest review)
Genre: YA Contemporary
My Rating: 3 Stars
Book Description:
Day 1: Julia Donnelly eggs my house my first night back in Star Lake, and that's how I know everyone still remembers everything—how I destroyed my relationship with Patrick the night everything happened with his brother, Gabe. How I wrecked their whole family. Now I'm serving out my summer like a jail sentence: Just ninety-nine days till I can leave for college, and be done.
Day 4: A nasty note on my windshield makes it clear Julia isn't finished. I'm expecting a fight when someone taps me on the shoulder, but it's just Gabe, home from college and actually happy to see me. "For what it's worth, Molly Barlow," he says, "I'm really glad you're back."
Day 12: Gabe got me to come to this party, and I'm actually having fun. I think he's about to kiss me—and that's when I see Patrick. My Patrick, who's supposed to be clear across the country. My Patrick, who's never going to forgive me.
Having liked Katie's debut novel last year, when I saw this I didn't hesitate to grab it.
And while this wasn't quite what I was expecting from her, it was a good solid read and a good coming of age story but with some twists.
Molly made a lot of mistakes, in the past and in the present when this novel takes place and because of them, she was a hard character to like sometimes. Not because of the mistakes that she made but rather because of what she did after those mistakes.
She ran. Sometimes literally from them. And honestly, what does that ever solve? Not only that but most of the time she had a woe is me attitude that could be pretty hard to handle.
The good part of the story? The redeeming part? Molly does grow up. She does learn from her mistakes...eventually.
This was a cute, sometimes difficult story to read with characters that I struggled to love and at times even like and I don't think it will be for everyone but I did enjoy it and it was a great escape read to just get awry for a few hours and get lost in someone else' troubles and drama, just maybe not a favorite or one I will even remember months down the road from now.
*All thoughts and opinions are my own and were not influenced by the author or publisher. I was not compensated for this review.*