I am excited to be a part of the tour for After the Rain because this was such a sweet tragic story about losing love and finding it again when you least expect it.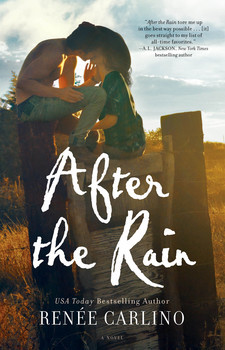 Release Date: November 11, 2014 (Atria Books)
Author: Renee Carlino
Source: ARC Copy Provided by the Publisher (in exchange for an honest review)
Genre: Contemporary Romance
Book Description:
From the USA TODAY bestselling author of Sweet Thing and Nowhere But Here comes a deeply emotional contemporary romance about the second chances waiting beyond the shattered dreams of youth.
Under the bright arena lights of a rodeo show, young Avelina Belo falls for a handsome cowboy with a larger-than-life personality. After a whirlwind courtship, she happily moves away from her family in northern California and settles into married life with her cowboy on a seven-thousand-acre cattle ranch in Montana. One freak accident later, Avelina's hopes for the future come to an end.
Nate Myers graduated from UCLA medical school at the top of his class, ready to follow in the footsteps of his father, a superstar cardiothoracic surgeon. Six years later, Nate's career is being ruined by a malpractice suit. Questioning himself for the first time, he retreats to a Montana cattle ranch to visit his uncle and gain perspective. There, he meets a beautiful young woman named Avelina who teaches him more than he ever knew about matters of the heart.
About the Author:
Renee's first friends were the imaginary kind and even though her characters haven't gone away, thankfully the delusions have. She admits she's a wildly hopeless romantic and she blames 80's movies staring Molly Ringwald for that. She lives in Southern California with her husband, two sons, and their sweet dog June. When she's not at the beach with her boys or working on the next book, she likes to spend her time reading, going to concerts, and eating dark chocolate.
I knew going into this that it was going to be one of those raw, emotional reads that would twist me all in knots one minute and make me sigh with content in the next.
An emotionally driven plot that is sure to pull at your heart strings every bit as much as it will make you seethe with anger and the next chapter smiling with sweetness.
Gritty with tough subject matters of suicide, death, abuse, heartache, loss, love, and so much more, all beautiful done to make up a truly wonderful story about letting go, forgiving, moving on, and growing up.
With ups and downs that make any good relationship one worth having. Hard times and good times and some twists along the way. I didn't know whether to smile one second or cry the next.
So much changing, so much growing happens for both Avelina and Nathan that it really was a beautiful journey to take with them.
This was so well done, laid out, and presented. It really is a read that will break your heart only to slowly piece it all back together again, a little more worn from the wearer but beating all that much stronger from the struggle to a happily ever after in the end.
*All thoughts and opinions are my own and were not influenced by the author or publisher. I was not compensated for this review.*