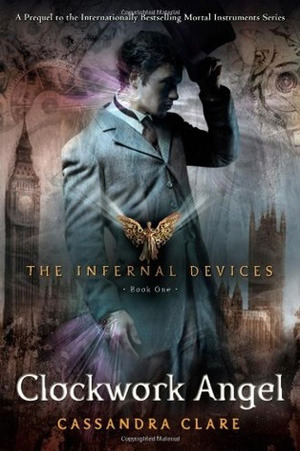 Title: Clockwork Angel
Author: Cassandra Clare
Series: Book One in the Internal Devices Trilogy
Published By: Simon & Schuster (August 31, 2010)
Source: Purchased
Genre: YA Fantasy
My Rating: 3.5 Stars
Book Description:
In a time when Shadowhunters are barely winning the fight against the forces of darkness, one battle will change the course of history forever. Welcome to the Infernal Devices trilogy, a stunning and dangerous prequel to the New York Times bestselling Mortal Instruments series.
The year is 1878. Tessa Gray descends into London's dark supernatural underworld in search of her missing brother. She soon discovers that her only allies are the demon-slaying Shadowhunters—including Will and Jem, the mysterious boys she is attracted to. Soon they find themselves up against the Pandemonium Club, a secret organization of vampires, demons, warlocks, and humans. Equipped with a magical army of unstoppable clockwork creatures, the Club is out to rule the British Empire, and only Tessa and her allies can stop them....
I am going to be honest, I put off reading this series because, while I loved the first three books in Mortal Instruments, I was slightly upset that the author had decided to make the trilogy a series of six instead. I know what you are thinking, why in the world would that upset me?
The simple answer? Because I was happy with the way it had ended after book three and I didn't feel more books were necessary and honestly, that they were nothing more than a ploy to make more money.
Not very nice at all, I know, but it was how I felt at the time and so, I decided against reading the Internal Devices anytime soon and put it off and kept putting it off until I finally decided I couldn't put it off anymore.
What an idiot I can be sometimes.
I was quickly reminded why I fell in love with Clare's writing from the very first page and kicking myself that I had been such a fool.
And even though it took me a really long time to warm up to Will, I fell in love with Tessa and Jem from the get go.
It was fun to see familiar faces (oh Magnus how I love thee) and meet some familiar surnames from characters from the original series.
I definitely won't be putting off reading book two and three.
*All thoughts and opinions are my own and were not influenced by the author or publisher. I was not compensated for this review.*