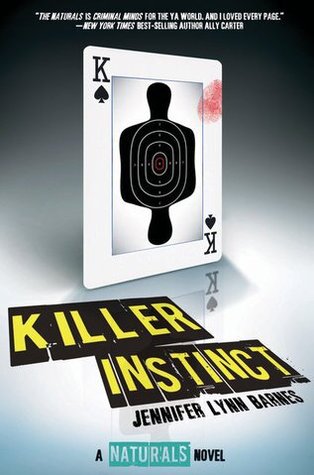 Title: Killer Instinct
Author: Jennifer Lynn Barnes
Series: Book Two in the Naturals Series
Published By: Disney-Hyperion (November 4, 2014)
Source: ARC Copy Provided by the Publisher
(in exchange for an honest review)
Genre: YA Thriller/Mystery
My Rating: 4 Stars!
Book Description:
Seventeen-year-old Cassie Hobbes has a gift for profiling people. Her talent has landed her a spot in an elite FBI program for teens with innate crime-solving abilities, and into some harrowing situations. After barely escaping a confrontation with an unbalanced killer obsessed with her mother's murder, Cassie hopes she and the rest of the team can stick to solving cold cases from a distance.
But when victims of a brutal new serial killer start turning up, the Naturals are pulled into an active case that strikes too close to home: the killer is a perfect copycat of Dean's incarcerated father—a man he'd do anything to forget. Forced deeper into a murderer's psyche than ever before, will the Naturals be able to outsmart the enigmatic killer's brutal mind games before this copycat twists them into his web for good?
With her trademark wit, brilliant plotting, and twists that no one will see coming, Jennifer Lynn Barnes will keep readers on the edge of their seats (and looking over their shoulders) as they race through the pages of this thrilling novel.
Like I have come to expect from all Disney-Hyperion books and even Jennifer herself, I was not disappointed in Killer Instinct.
Like it's predecessor, this was a fun thrilling and fast paced ride that I loved every minute of.
I loved Cassie, Dean. Sloane, Michael, and Lia in The Naturals and is was without question that when the second book came out, I was going to get it and I was going to love it.
This was even better than the first and I did indeed love every minute of it.
If possible, the whole team of Naturals was better, smarter, sassier, funny, and just down right amazing.
I love their whole dynamic. They might not always like each other but they do all love each other. They have become a family and it was so very nice to see them work together, stick up for one another, and to have each other's backs.
The mystery was better, the writing was better, and the action was better. I can truly see this becoming one of my go to series when I want a good mystery with just the right amount of intrigue, action, and light romance.
I am so very excited for where book three will lead us. So many changes, conditions, friendships and heartbreaks have formed and happened. It is going to be a fun ride.
*All thoughts and opinions are my own and were not influenced by the author or publisher. I was not compensated for this review.*