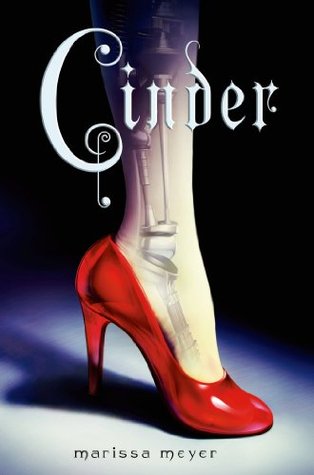 Title: Cinder
Author: Marissa Meyer
Series: Book One in the Lunar Chronicles
Published By: Feiwel & Friends (January 3, 2012)
Source: Purchased
Genre: YA Fantasy
My Rating: 4 Stars!
Book Description:
Humans and androids crowd the raucous streets of New Beijing. A deadly plague ravages the population. From space, a ruthless lunar people watch, waiting to make their move. No one knows that Earth's fate hinges on one girl.
Cinder, a gifted mechanic, is a cyborg. She's a second-class citizen with a mysterious past, reviled by her stepmother and blamed for her stepsister's illness. But when her life becomes intertwined with the handsome Prince Kai's, she suddenly finds herself at the center of an intergalactic struggle, and a forbidden attraction. Caught between duty and freedom, loyalty and betrayal, she must uncover secrets about her past in order to protect her world's future.
I know what you are thinking, trust me I do. About darn freaking time you read this. Right? Right?
I absolutely love getting book recommendations from my fellow bloggers because they almost always end up being 4 or 5 star reviews for me and I am happy to report that Cinder fit right in with those 4 or 5 star reads.
I devoured this. I consumed it in one sitting and just couldn't get enough of it. In fact, I went online and read all of the prequels that were posted on Wattpad because of my love for Meyer's writing. I just wanted more Cinder and I wasn't ready for it to be over.
I would love to call this a retelling of an old classic but that isn't quite right. This wasn't just a retelling but a remake too. A very futuristic twist on a classic that was done so very well that it almost felt like a completely new story, with new characters and a whole new plot line filled with lots of twists and turns to keep you guessing and turning the pages.
The world Meyer's created is not only believable but so tangible that you can feel it and see it without hesitation. You believe it is real and something we will see in the distant future.
Cinder is not your average girl , in fact she isn't even just a girl, she is a cyborg living in a world, while rich in technology, is still very biased and racist towards those that aren't considered all human.
And if that wasn't bad enough she gets some other surprises about her heritage and origins along the way.
I really really liked this. I truly did and even though my expectations were high and I was expecting to be disappointed because of it, I am pleased to say, I wasn't, not at all.
If you love retellings but want more than just a new version of a story or a small tweak of what you already love, then these are the books you need to pick up. They will blow you away with the originality mixed in with the old.
Meyer's has done a fantastic job and I can't wait to pick up the next one.
*All thoughts and opinions are my own and were not influenced by the author or publisher. I was not compensated for this review.*