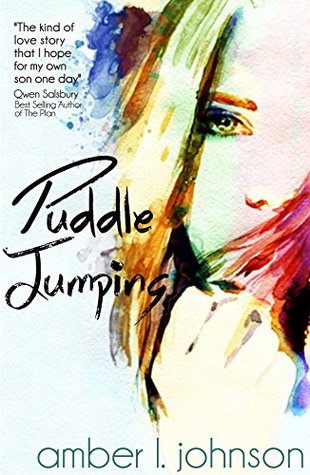 Title: Puddle Jumping
Author: Amber L. Johnson
Series: Stand Alone
Published: June 29, 2014 (Self Published)
Source: Purchased
Genre: YA
My Rating: 5 Stars
Book Description:
When it comes to love there's no such thing as conventional.
Everyone thinks Colton Neely is special.
Lilly Evans just thinks he's fascinating.
Once friends when they were younger, their bond is cut short due to her accident prone nature and they go their separate ways. Years later, they meet again and Lilly learns that there is something special about the boy she once knew, but she has no idea what it all means. And she's not sure if she's ready to find out.
When he walks through the corridor of her school the first day of her senior year, she knows that it's time to get to know the real Colton Neely. The more she learns, the deeper she falls.
Their friendship grows into love, even as Colton does not express it in words. But one decision threatens to break down the world that Lilly has tried so hard to integrate into and she must figure out if the relationship can survive if they are apart.
Oh my goodness this story was so darn amazing. So touching and emotional and so well done.
It is real and a bit raw and everything I look for and love in a good story.
Honest to a fault and so darn endearing and sweet. It just about broke my heart in it's simplicity that wasn't simplicity at all.
A story about a girl's journey to love the boy she couldn't help love and the boy who would change her view on life and love forever. A fairy that that wasn't a fairy tale at all.
So much packed into a short little read that will not feel short at all. Instead the words, the story, will steal into your heart and very soul. It will make you feel and think and even love.
I loved this story and that is all you really need to know.
*All thoughts and opinions are my own and were not influenced by the author or publisher. I was not compensated for this review.*