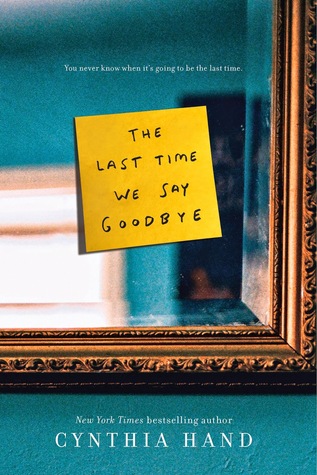 Title: The Last Time We Say Goodbye
Author: Cynthia Hand
Published By: HarperTeen (February 10, 2015)
Source: ARC Copy Provided by the Publisher
(in exchange for an honest review)
Genre: YA Contempprary/Grief/Family
My Rating: 4 Stars!
Book Description:
There's death all around us.
We just don't pay attention.
Until we do.
The last time Lex was happy, it was before. When she had a family that was whole. A boyfriend she loved. Friends who didn't look at her like she might break down at any moment.
Now she's just the girl whose brother killed himself. And it feels like that's all she'll ever be.
As Lex starts to put her life back together, she tries to block out what happened the night Tyler died. But there's a secret she hasn't told anyone-a text Tyler sent, that could have changed everything.
Lex's brother is gone. But Lex is about to discover that a ghost doesn't have to be real to keep you from moving on.
From New York Times bestselling author Cynthia Hand, The Last Time We Say Goodbye is a gorgeous and heart-wrenching story of love, loss, and letting go.
I knew this was going to be great, I mean come on, this is Cynthia Hand we are talking about. I even knew this would be emotional considering the subject matter, but what I didn't know was that I would end up reading this all in one sitting. And while it was emotional, it wasn't cry your eyes out emotional. It was something more. Something very hard to put into words and to explain. But something great nonetheless.
Sometimes when I write up my reviews I wish I was an eloquent writer with beautiful words and descriptions. Someone who could make you see and feel all that I did while reading a story but sadly, that wasn't my gift in life. So instead you are stuck with this version of me, the one right now, struggling to help you understand all that I felt while reading this and how wonderful and raw I think the story truly was.
Suicide is never something anyone wants to talk about, let alone acknowledge. For whatever reason it is a very taboo subject. One that is avoided at all costs. Looked over and sometimes even ignored. But it shouldn't be because it is a very real, very serious matter. Not only to those that contemplate it but to those that love those that do.
What happens to those that are left behind? How does it affect them, change them, and how do they go on?
This was so beautifully done, so beautifully spoken.
This doesn't just poke and prod at a tough subject matter, it digs in, elbows deep, into the heart of the matter. It is gritty and raw and really shows the painful side of those that are left to deal with the aftermath. How it changes them. It is the bad, the ugly, and the even uglier parts of the story no one wants to think about. That probably, no one really knows or can completely understand unless they have been there.
Did I mention this was beautiful? Did I mention that it tore me up in all the right ways and really made me feel? Really opened my eyes and let me just simply see?
Well done Ms. Hand. Well done. I never expected to love this and have it move me as much as it did. So again, well done. I can't imagine how hard, how painful at times and also challenging this must have been to write. To experience and to live.
The author's note at the end is something that should also be read to fully understand just how amazing, how beautiful this story really is.
*All thoughts and opinions are my own and were not influenced by the author or publisher. I was not compensated for this review.*