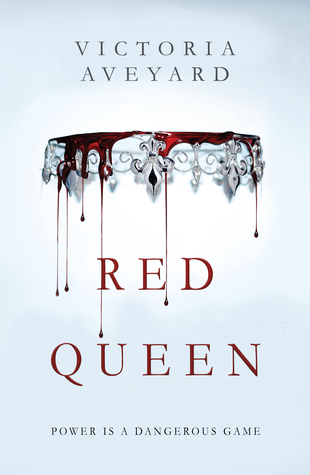 Title: Red Queen
Author: Victoria Aveyard
Series: Book One in the Red Queen Trilogy
Published By: Orion (February 10, 2015)
Source: ARC Copy Provided by the Publisher
(in exchange for an honest review)
Genre: YA Dytopian/Fantasy
My Rating: 4.5 Stars!
Book Description:
The poverty stricken Reds are commoners, living under the rule of the Silvers, elite warriors with god-like powers.
To Mare Barrow, a 17-year-old Red girl from The Stilts, it looks like nothing will ever change.
Mare finds herself working in the Silver Palace, at the centre of
those she hates the most. She quickly discovers that, despite her red blood, she possesses a deadly power of her own. One that threatens to destroy Silver control.
But power is a dangerous game. And in this world divided by blood, who will win?
I never in my wildest dreams would have thought that I would the girl to love fantasy. I have struggled with it so much in the past that it just wasn't my go to genre but I have to say, with the last year and all the excellent books I have read, this one included, I am so a fantasy girl now.
This book once again, took me by surprise. It grabbed me by the arms and hurdled me into the world that Aveyard created and while I was hesitant to go there, I must say, after being there, I didn't want to leave.
This was another one of those books that grabs you and refuses to let go. With conspiracies, action, a very slight hint of romance, and paranormal activity up the wazoo, you don't want to be let go, instead, you findn yourself the one that is grabbing onto the pages, hanging on for dear life, screaming your head off at the wild ride and loving every single minute of it and begging for it to never end.
I can't even begin to tell you what it was that grabbed me so much other than maybe it was just the whole darn thing. The characters, the story, the plot, the action, the adventure, the lies, the society, the forbidden love, the jealousy, Just. All. Of. It.
This was on my must read list for 2015 and I am so happy that it was because it deserves the praise that is going around about it. The four and five star reviews, the glowing recommendations, the kind words, the gushing of the author's talent, again, all. Of. It.
This is Aveyard's debut and holy crap was it a hit. It wasn't a splash into the genre, it was a freaking tidal wave and I am so excited to see what book two holds.
*All thoughts and opinions are my own and were not influenced by the author or publisher. I was not compensated for this review.*