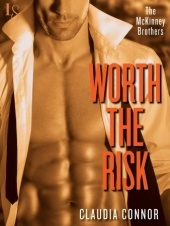 Title: Worth the Risk
Author: Claudia Connor
Series: Book Two in the McKinney Brothers Series
Published By: Loveswept (February 3, 2015)
Source: ARC Copy Provided by the Publisher (
in exchange for an honest review)
Genre: Contemporary Romance
My Rating: 4 Stars!
Book Description:
When a McKinney brother falls in love, powerful emotion and overwhelming desire are never far behind.
Two hearts locked away . . . Hannah Walker spends her days coaching children through injury and trauma, one therapeutic horseback ride at a time. She knows all too well how violence can change a child and leave scars that never heal. It's easy for her to relate to the kids; what isn't easy is the thought of facing her own harrowing past.
Millionaire playboy Stephen McKinney could use a little coaching himself. Five years ago he encountered his most horrible nightmare—and the nightmare won. No matter what he achieves, nothing can make up for that awful night . . . or so he believes.
Both desperate for a second chance . . . Stephen is used to getting what he wants. And he wants Hannah. So when she turns him down, he's intrigued. What he doesn't know is that her secrets will lead him to a place he never wanted to go again . . . to a side of himself he's tried to forget . . . a side that would scare Hannah away from ever loving him. Now his only chance to win her trust is to bare his soul, risking everything he tried so hard to protect.
I fell in love with the McKinnley brothers after reading Worth the Fall and I just knew that my brief glimpse of them in the first book wasn't going to be enough. I needed to meet them all and I needed to meet them now.
Oh my gosh, I think I loved this book every bit as much as I loved the first. I loved Stephen every bit as much as I loved Matt, and let me tell you, Stephen had his work cut out for him because Matt was quite the swoon worthy hero.
I didn't fall instantly in love with Stephen like I did Matt but, fall I did over the course of the book. There is just something so endearing about a broken man, a good man, that wants to be even better and that one person who makes him whole again.
Hannah was that person and I fell in love with her every bit as much as I did Stephen. And lets talk about her brothers, the Walker boys? I want a series all about them as well!!
This was a wonderful, if slightly darker sequel to the first book and completely lived up to it. I read it in one sitting and just couldn't get enough of it. I absolutely adored that we got not only more of all the McKinnley's but tons of Matt and Abby, it was wonderful to see them together, happy and to see where they were.
Mia was also a very nice surprise and I am keeping my fingers crossed that somewhere along the way, she too will get a story.
This was filled with steamy sexual tension, sweet tender moments and tons of swoon worthy, heart stopping moments.
I am super excited to see who the next book will be about.
*All thoughts and opinions are my own and were not influenced by the author or publisher. I was not compensated for this review.*