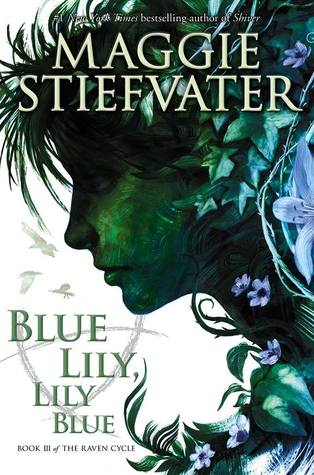 Title: Blue Lily, Lily Blue
Author: Maggie Stiefvater
Series: Book Three in the Raven Boys
Published By: Scholastic (October 21, 2014)
Source: ARC Copy Provided by the Publisher
(in exchange for an honest review)
Genre: YA Fantasy
My Rating: 5 Stars!
Book Description:
There is danger in dreaming. But there is even more danger in waking up.
Blue Sargent has found things. For the first time in her life, she has friends she can trust, a group to which she can belong. The Raven Boys have taken her in as one of their own. Their problems have become hers, and her problems have become theirs.
The trick with found things though, is how easily they can be lost.
Friends can betray.
Mothers can disappear.
Visions can mislead.
Certainties can unravel.
For some unimaginable reason I thought Blue Lily, Lily Blue was the last book in the Raven Cycle series and even though I am thrilled that we will get yet another beautiful written, beautiful imaginative story, I would be lying if I didn't say I am somewhat sad at the same time that all of my questions weren't answered in this installment. I was looking forward to seeing where it would end and of course seriously hoping for some lip on lip action for Blue.
Having said all of that though, this wasn't a disappointment, not in the least. Steifvater once again stuns us with her beautiful imagery and prose. With her ability to lead us down one path only to put a huge fork in the road and make us all confused again about the direction we are going in.
I love her riddles, the sneaky foreshadowing and most of all, I love Blue and her Raven boys and the craziness that is 300 Fox Way.
Better characters, more fierce determined, driven characters, would be hard pressed to find. I love their camaraderie, their willingness to help each other even when they can't stand one another. Their tenacity, their friendship and I love the crazy quest that is constantly changing and growing and becoming something so much more than finding a sleeping king.
Stievfater never ceases to amaze me with her ability to weave a story. A story whos answers only lead to more questions and mystery and you are okay with that because the darn thing is so compelling that you don't even care. You are completely sucked into it and nothing even matter anymore except that they find what they are looking for and yes, that poor Blue gets that kiss she so sorely deserves.
Who will die? Who will survive and who will forever be changed, maybe even for the worst? One thing is for sure, it is going to be great no matter what happens and once again Stievfater will sweep us into the story and make everything else obsolete in the process.
And that ending? It only makes me more anxious for the next book, maybe even more so than any of the others have been capable of doing thus far.
*All thoughts and opinions are my own and were not influenced by the author or publisher. I was not compensated for this review.*
Check out the stops today for the Something Wicker Strikes Tour! So many fun and spooky things are happening in this month long event!