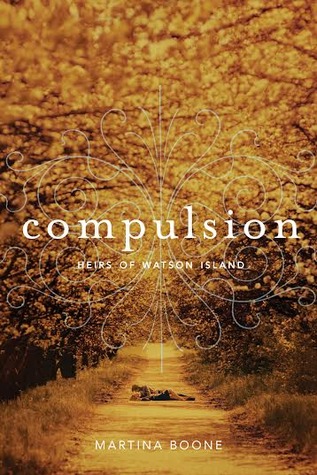 Title: Compulsion
Author: Martina Boone
Series: Book One in the Heirs of Watson Island Series
Published By: Simon Pulse (October 28, 2014)
Source: ARC Copy Provided by the Publisher
(in exchange for an honest review)
Genre: YA Fantasy/Paranormal
My Rating: 4 Stars!
Book Description:
Three plantations. Two wishes. One ancient curse.
All her life, Barrie Watson has been a virtual prisoner in the house where she lives with her shut-in mother. When her mother dies, Barrie promises to put some mileage on her stiletto heels. But she finds a new kind of prison at her aunt's South Carolina plantation instead--a prison guarded by an ancient spirit who long ago cursed one of the three founding families of Watson Island and gave the others magical gifts that became compulsions.
Stuck with the ghosts of a generations-old feud and hunted by forces she cannot see, Barrie must find a way to break free of the family legacy. With the help of sun-kissed Eight Beaufort, who knows what Barrie wants before she knows herself, the last Watson heir starts to unravel her family's twisted secrets. What she finds is dangerous: a love she never expected, a river that turns to fire at midnight, a gorgeous cousin who isn't what she seems, and very real enemies who want both Eight and Barrie dead.
This was one of my most highly anticipated reads for fall. I loved everything about it from the gorgeous cover to the alluring synopsis and I couldn't wait to dive right in and discover all the secrets of the Watson Island.
I am so glad I picked this up, sometimes intuition pays off and a pretty cover and synopsis isn't just a pretty cover and description, it is something great and fun and so worth it to read.
I really loved Lo and Barrie (Bear). There was just something so..perfect about them. Their instant connect (NOT insta love) didn't make me roll my eyes or want to gag like so many insta loves do these days, it just fit the entire feel of the story and made complete sense.
The mystery behind the Fire Carrier and the curses and gifts was so captivating. Combine that with the mysterious and beautiful Southern gothic setting and this whole storyline just called to me.
Throw in a plantation that seems to take on a life all it's own and you truly have a read perfect for this time of year, or any time really.
We don't get all the answers because, after all this is only book one but we get just enough to whet our appetites and crave more and I was left craving more by the end.
I simply can not wait to see what happens next. I loved Eight, Pru, Mark, Barrie, Mary, and even Seven so very much and I devoured this read. I wasn't ready for it to be over and I will be on pins and needles waiting for book two to be out.
*All thoughts and opinions are my own and were not influenced by the author or publisher. I was not compensated for this review.*
Don't forget to check out all the great giveaways, fun, and guest posts for the Something Wicked Strikes Hop!
The full schedule can be found HERE.
There is something new and excited every day this month!