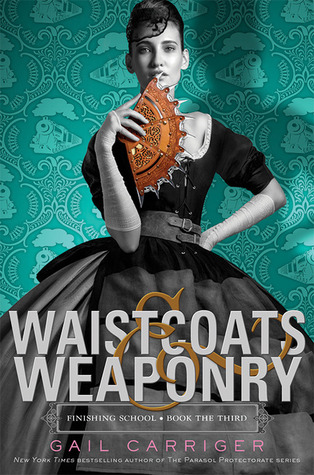 Title: Waistcoats & Weaponry
Author: Gail Carriger
Series: Book Three in the Finishing School Series
Published By: Hachette Little Brown (November 4, 2014)
Source: ARC Copy Provided by the Publisher
(in exchange for an honest review)
Genre: YA Hostorical Paranormal/Steampunk
My Rating: 4 Stars
Book Description:
Class is back in session...
Sophronia continues her second year at finishing school in style--with a steel-bladed fan secreted in the folds of her ball gown, of course. Such a fashionable choice of weapon comes in handy when Sophronia, her best friend Dimity, sweet sootie Soap, and the charming Lord Felix Mersey stowaway on a train to return their classmate Sidheag to her werewolf pack in Scotland. No one suspected what--or who--they would find aboard that suspiciously empty train. Sophronia uncovers a plot that threatens to throw all of London into chaos and she must decide where her loyalties lie, once and for all.
Gather your poison, steel tipped quill, and the rest of your school supplies and join Mademoiselle Geraldine's proper young killing machines in the third rousing installment in the New York Times bestselling Finishing School Series by steampunk author, Gail Carriger.
This is such a fun series. Like smile the whole way through and sit back and have fun kind of series.
From the names of the characters down to the shenanigans they get themselves involved in, it is just plain fun and the series is getting better and better as it goes.
This has elements in numerous genres that I simply adore from the paranormal steampunk to the historic side of it and the ragtag bunch of friends is by far the best part of it all.
Add in teachers that are almost as mischievous as the students, adventure around every corner, a hint of romance in every book and an even bigger hint of danger and this series is quickly becoming one of my go to series for a great time.
*All thoughts and opinions are my own and were not influenced by the author or publisher. I was not compensated for this review.*
Don't forget to stop by Heidi's today and see what she has posted for the Something Wicked Hop!