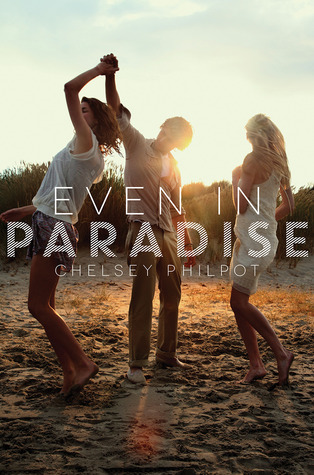 Title: Even in Paradise
Author: Chelsey Philpot
Series: Stand Alone
Published By: Harper Teen (October 14, 2014)
Source: ARC Copy Provided by the Publisher
(in exchange for an honest review)
Genre: YA Contemporary
My Rating: 3 Stars
Book Description:
When Julia Buchanan enrolls at St. Anne's at the beginning of junior year, Charlotte Ryder already knows all about the former senator's daughter. Most people do... or think they do.
Charlotte certainly never expects she'll be Julia's friend. But almost immediately, she is drawn into the larger than-life-new girl's world—a world of midnight rendezvous, dazzling parties, palatial vacation homes, and fizzy champagne cocktails. And then Charlotte meets, and begins falling for, Julia's handsome older brother, Sebastian.
But behind her self-assured smiles and toasts to the future, Charlotte soon realizes that Julia is still suffering from a tragedy. A tragedy that the Buchanan family has kept hidden … until now.
I didn't go into this expecting a light read but nor did I go into it expecting something profound either. Something that would work it's way into your mind in the middle of the day when you weren't even reading, let alone near the book. A book who's words captivated as much as they made you ponder.
I have seen others relate this to The Great Gatsby and I can see that I really can. The strange fascinating life of the Buchanan's and their draw on others around them. That certain charisma that they all seemed to posses as those that wanted to posses them. Those that wanted to emulate them and those that just wanted to be near them and those that were just lucky they knew them.
Secrets that aren't really secrets and hearts that are every bit as broken as they are hopeful.
Honestly this is one of those rare books that is really hard to describe. Really hard to put into feelings and even more into words.
I didn't love this nor did I hate it. Instead I silently read on catching myself thinking about whenever I would put it down and still not fully understanding those feelings that I knew were there lurking in the shadows. Feelings never quite expressed fully formed in thought but yet I know the feelings were there, I mean, I was thinking about it right? That says something about the story, about the author's ability to make you think if not feel.
This book could be profound in it's quiet sneaky way and then shallow and confusing in others. Descriptive and imaginative and something completely unexpected.
I liked it. I thought about it and it left me feeling even if I didn't exactly have names for all those feelings. And the ending, the ending was something else. Something sad, something perfect for the whole of the story. Something well written and well done and something that will make me come back for more from this author whenever she comes out with something new.
*All thoughts and opinions are my own and were not influenced by the author or publisher. I was not compensated for this review.
Don't forget to check out the Something Wicked Strikes stops for today!
View the full schedule HERE.