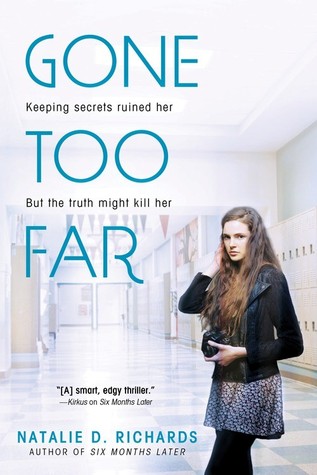 Title: Gone Too Far
Author: Natalie D. Richards
Series: Stand Alone
Published By: Sourcefire Books (January 6, 2015)
Source: ARC Copy Provided by the Publisher
(in exchange for an honest review)
Genre: YA Mystery/Thriller
My Rating: 4 Stars!
Book Description:
Keeping secrets ruined her life. But the truth might just kill her.
Piper Woods can't wait for the purgatory of senior year to end. She skirts the fringes of high school like a pro until the morning she finds a notebook with mutilated photographs and a list of student sins. She's sure the book is too gruesome to be true, until pretty, popular Stella dies after a sex-tape goes viral. Everyone's sure it's suicide, but Piper remembers Stella's name from the book and begins to suspect something much worse.
Drowning in secrets she doesn't want to keep, Piper's fears are confirmed when she receives an anonymous text message daring her to make things right. All she needs to do is choose a name, the name of someone who deserves to be punished...
I am always up for a good mystery and when you throw in a mystery, with a genre I already love (YA) you have quite the winning combination.
Having enjoyed Richard's debut novel Six Months I was eager to read another one of her books and see if it would be every bit as fun as her first.
I am happy to report that it was and that I read this in a single sitting. And why I didn't have everything completely figured out, I did have a lot figured out before the big reveal, but it was okay because the book was so entertaining that I kept wanting to read more and it didn't matter if I had it all figured out or not, the story was just that engaging and fun.
Piper was an interesting character, it took me quite a while before I could decide if I actually liked her or not. She could be unfair and judgmental but she did change, she did grow and because of that growth, I found myself liking her more and more as the story progressed.
Nick on the other hand, I loved from the very beginning. There is something to be said about a boy who is sweet and just good. Someone as far away from a bad boy as you can get and every bit better because of it.
This was another good solid mystery for Richard's and I will continue to pick up her books and read them because of it, it was relatable, engaging and had characters that were realistic and situations we could have all found ourselves in at one time or another.
*All thoughts and opinions are my own and were not influenced by the author or publisher. I was not compensated for this review.*