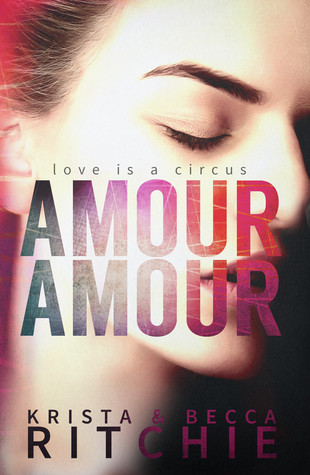 Title: Amour Amour
Author(s): Krista & Becca Ritchie
Series: Stand Alone
Published: December 12, 2015
Source: Borrowed
Genre: NA Contemporary
My Rating: 4.5 Stars!
Book Description:
Love is a circus
"Every day," he says lowly, "I hold a person's life in my hands. The circus is based one-hundred percent off trust. I give it all to someone, and they give it all to me."
The best aerial technique won't land 21-year-old Thora James her dream role in Amour—a sexy new acrobatic show on the Vegas strip. Thora knows she's out of her element the second she meets Amour's leading performer. Confident, charming and devilishly captivating, 26-year-old Nikolai Kotova lives up to his nickname as the "God of Russia."
When Thora unknowingly walks into the crosshairs of Nikolai's after-show, her audition process begins way too soon. Unprofessional. That's what Nik calls their "non-existent" relationship. It's not like Thora can avoid him. For one, they may be partners in the future--acrobatic partners, that is. But getting closer to Nik means diving deeper into sin city and into his dizzying world.
Thora wants to perform with him, but when someone like Nikolai attracts the spotlight wherever he goes—Thora fears that she's destined to be just background to his spellbinding show.
I am going to be upfront from the very beginning and tell you that what I loved most about this story, other than the beautiful messages behind it, was Nik.
I have loved a lot of book boyfriends in my time but none of them compares to Nik. His strength, compassion, loyalty, love, support, and down right goodness towards those he cares about.
His strength, his loyalty and his undying support for Thora was in fact the very best part of this story. Everyone should have someone like him in their life. Those people that better us, not because they are near and love us, but because they believe in us and they help us achieve our dreams. They fight with us and our dreams become their dreams and they become within grasp simply because we know someone else has faith is us. Someone believes in us. Someone else is our cheerleader, our biggest advocate and there when we need to be lifted back up because our failures weigh us down. Someone that lets us see the light when it is so very dark and bleak.
Not only was this story about going after the things that you want, even when others are bringing you down and telling you that you can't achieve them, it is about family. A strong family. A crazy family but one that is built with love all the same. The Kotova's are one of my most favorite families now. I loved every single one of them. No matter what, no matter their differences or choices or arguments, when it came down to it, they had each others back's and they cared about each other and fought for each other. What more could you ask for in a family?
I have so much love for this book that I can't even name everything. From the great cast of characters (I am looking at you John!) to the ones that you wanted to reach through the pages and shake (I am looking at you Shay!) to the ones you wanted to hug and call your own (I am looking at you Kotovas).
I never thought there could be so much depth to a book about the circus. A story about what it really means to be a part of something bigger than yourself. Something called family.
Circus is love, circus is family.